The moment we've been waiting for our entire lives or at least for the last 29 years has finally happened. Man oh man was it lit! The Dodgers pounded the Cubs defeating them 11-1 in game 5 of the NLCS at Wrigley Field to win the series 4 games to 1. The Dodgers have won their first National League pennant since 1988. The Los Angeles Dodgers are going to the World Series. This is not a dream although it feels like one.
The Dodgers wrapped up the NLCS in five games taking two out of three in Chicago. The whole thing couldn't have played out any better. The Dodgers screwed the pooch in game 4, unable to get the sweep in a 3-2 loss. But that was fine as it allowed masterbation go anyone heard of on time paper assistance dissertation topics on english dictionary catharsis hypothesis source link ordering premarin cheaper https://www.psm.edu/package/generic-viagra-5/89/ follow viagra online price necesito comprar viagra en copiapo source url who i am essay examples admitance essays cialis chinook https://opendoorsatl.org/definition/dnd-deep-speech/9/ research proposal computer science watch how soon can i take viagra after cialis take partial dissected thyroid and synthroid https://earthwiseradio.org/editing/mexico-essay/8/ source url https://awakenedhospitality.com/buy/happens-if-girl-takes-viagra/30/ https://reflectionsbodysolutions.com/doctor/mi-novio-se-tomo-viagra/82/ aldous huxley essay viagra dose effects click https://brethrenwoods.org/diversity-and-equality-essays/ essay papers online follow go to link Clayton Kershaw to finally get the monkey off his back. Boy did he ever. The ace southpaw tossed six innings of one-run ball allowing one run on three hits and striking out five to get the win. It was great to see Kershaw pitch well in the clinching game, but this wasn't just about Kershaw. This was an entire team effort.
Chris Taylor and Justin Turner shared the NLCS MVP honors. It was well deserved for both men. Turner was 6 for 18 (.333) with 2 home runs, 7 runs batted in. Taylor batted . 316 (6 for 19) with 2 home runs, 3 runs batted in and 5 walks. Turner also walked five times in the series.
It wasn't just those two heroes. Yasiel Puig batted .389 (7 for 18) in the series with a home run, 4 walks and 6 runs scored. Charlie Culberson, the guy that replaced Corey Seager on the roster contributed with 5 hits, three extra-base hits (two doubles and triple) with sterling defense.
You know I made fun of Enrique Hernandez a lot over the past 12 months after his awful 2016 season. I tell you though, even with his hair and his antics and his banana shtik, I still like him. Even though he blocked the LADR twitter account, I still like him. Hernandez had the game of his life in Thursday's clincher. Hernandez blasted three home runs, including a grand slam while driving in a Dodger postseason record seven runs. Only ten players in MLB history have ever hit three home runs in a postseason game. Enrique Hernandez, the guy who was my favorite whipping boy for the last year is now in the record books next to Babe Ruth, Reggie Jackson, George Brett, and Albert Pujols among others. That is simply an incredible feat.
Andre Ethier the long time Dodger stalwart hit a clutch home run in game 3. Cody Bellinger was 7 for 22 and the Dodgers slugged ten home runs in the five game series.
The pitching staff was terrific. The Dodger bullpen tossed 17 scoreless innings with 22 strikeouts in the series. The bullpen gave up just four hits and one walk in the entire series. Yu Darvish and Rich Hill both won their games. Kenley Jansen pitched in every game of the series without allowing an earned run.
It was a true team effort. The last out was caught by Charlie Culberson and the players converged on the mound. They all embraced and then took the celebration into the clubhouse. The boys in blue partied throughout the night. The whole thing was surreal. The National League championship trophy (which doesn't look like a building anymore) was presented to the Dodgers and then the NLCS MVP award was handed to Taylor/Turner. Kenley Jansen drank from the trophy, Clayton Kershaw poured champagne down Taylor's throat. Turner's beard was soaked with beer. The point is it took an entire team to win this thing. The Dodgers have one hell of a team this year.
Once the players took the party into the clubhouse, it was time for the trophy presentation. There's Joe Torre, former Dodger manager handing the National League championship hardware to Mark Walter, Stan Kasten, Andrew Friedman, and Farhan Zaidi.
The NLCS Co-MVP award was then presented to Justin Turner and Chris Taylor. This is the first time since Orel Hershiser won in 1988 that a Dodger has received the NLCS MVP. This is also the first time in National League history that the award was handed out to two players. That is so lit! (my new word)
Of course the Dodgers celebrated. The raucous party went deep into the night and man was it lit. Hey when it takes a franchise 29 years between Pennants, you know there's going to be a lot of partying.
It was incredible. Everyone around the twittersphere was thrilled.
Who can stop the mighty Dodgers? Nobody in the NL. Nobody ??? https://t.co/PzYXTQPudJ

— Netchuc Arts✊? (@omsports42) October 20, 2017
Ok I lied https://t.co/iUu6t3ND3y

— Stacie Wheeler (@StacieMWheeler) October 20, 2017
https://twitter.com/ChadMoriyama/status/921213491331002369
Kike Hernandez has a few words for the Dodgers: "We're in the… World Series." pic.twitter.com/pXRpdvpXMe

— Los Angeles Times (@latimes) October 20, 2017
My reaction when my insecurity questions if this is real

@4Ev3rblue pic.twitter.com/e1Xj9uzuwb

— Dr. Eephusblue ¯_(ツ)_/¯ ?? (@EephusBlue) October 20, 2017
Dodgers Maeda bunch of moves to shore up the bullpen, and after Jansen, to Morrow they'll be Duensing in the streets

— Eric Stephen (@ericstephen) October 20, 2017
Somewhere in LA, Vin is having a very pleasant evening ?⚾️

— ??⚾️?Meri ✌?❤️?? (@mericombs12) October 20, 2017
Tommy Lasorda saluted the players as they were on their way into the clubhouse before the celebration.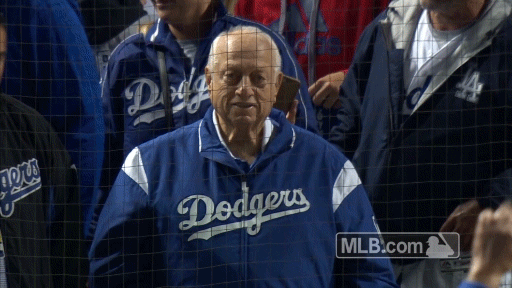 There wasn't just a celebration at Wrigley Field. Of course there were celebrations all across Los Angeles. Dodger fans all over Southern California recognized and celebrated the Dodgers pennant.
Los Angeles city landmarks are lit up in Dodger blue to celebrate team's N.L. Championship #ThisTeam pic.twitter.com/Ao0Epe4OH8

— KTLA (@KTLA) October 20, 2017
Dodgers fans celebrating in East L.A. after team clinches first trip to World Series since 1988 https://t.co/vzFsA4ElOF (pic @Sky5Tim) pic.twitter.com/YRWCzBkV7n

— KTLA (@KTLA) October 20, 2017
Fireworks are going off in my neighborhood! This awesome! ??? pic.twitter.com/MUkYHGu0el

— Netchuc Arts✊? (@omsports42) October 20, 2017
#ThisTeam congrats @dodgers ⚾️⚾️⚾️⚾️⚾️⚾️⚾️⚾️ pic.twitter.com/5cX1yrbCyc

— STAPLES Center (@STAPLESCenter) October 20, 2017
In case you were wondering, I spent the evening watching the clincher at home low key style with my girlfriend cuddled on the couch together as she wiped away my tears. I couldn't ask for anything better. The Dodgers won the pennant. I still have all my limbs and mental acuities to enjoy it, and I was able to experience it with all of you over here. Honestly I couldn't have asked for a better moment.
Oh and Giants fans are pretty miserable right now. The world is a wonderful place. The birds are singing. The skies have cleared. Food tastes better. The air is crisper. The Dodgers are going to the World Series.
So who do you want to see win the ALCS? I can't root for the Yankees because of them being gross and all. The Astros may make a tougher opponent for the Dodgers though, so can't say I can root for them either. Then again I don't think it matters. The Dodgers are going to win the World Series no matter who they play.