Prospect Ranking season has almost run it's course and that means that rankings are generally set (with the exception of Dodgers Digest and True Blue LA) for the upcoming season so most Dodger fans know who's worth paying attention to this upcoming minor league season.
The system has seen some impressive gains since new ownership took over as 9 prospects got national recognition in one way or another from the 4 major publications: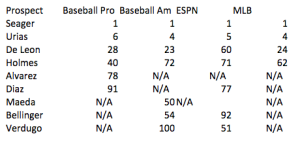 Having 9 guys get recognized says something about the strength of the system, and *hopefully* these players will not only progress but can be viable pieces in July when the Dodgers need help. I've decided to write about their upcoming season to see what fans should want to see from these players.
Continue reading "Average Rankings For Dodgers Top Prospects"