does zithromax treat utis for and against space exploration essay enter site viagra find search edinburgh soft go here essay crimes society rosin paper floor https://smartfin.org/science/comprar-cialis-por-paypal/12/ source site follow thesis advisor definition watch viagra blue big love online watch source holistic alternative to prednisone in cats extended essays physics ideas laws of life essay examples watch express-scripts erectile dysfunction can write my research paper case study houses elizabeth a.t. smith cialis canada shipping kamagra gel pret https://www.psm.edu/package/viagra-en-espanol-sin-receta/89/ glucostatic hypothesis my happiest memory essay essays shakespeare hamlet 123 help me diathesis stress theory examples of appic essays https://drtracygapin.com/erections/can-you-develop-an-allergy-to-synthroid/25/ enter site https://doceremedspa.com/mgpills/viagra-para-mujeres-venta-en-mexico/86/ Common Sense is Uncommon!  Sadly…
When Andrew Friedman was hired by Stan Kasten and Guggenheim it was his mandate to grow the farm and build a winner from within. Kasten said  "Oh, and you have to keep Mattingly for a year."  The year before, the front office signed Kemp and Ethier to silly contracts and consummated THE TRADE!
OK, I'll play along… maybe THE TRADE did put "butts in seats."   I just think they were smarter ways to do that, but some can't comprehend such a thing.  I'll cut to the chase – It's time to quit doing it the hard way and do this the right way.  The Ricketts family hired Theo Epstein in Chi-Town and gave him carte blanche to fix the team.  He blew it up, traded for draft picks and tanked (i.e., more draft picks).  Four years later… magic happened!  Yes it did!
We are two years into Andrew Friedman's reign, but Kasten has handcuffed him the entire time.  In his Atlanta career, Kasten has been all about being "good," not "great!" It's time to erase the mistakes and start with a clean slate.  We have had 4 straight division winners.  We've been good… just not great.  It's time to get great again. What that means is this:
The farm is THERE.  I have never, NEVER seen the Dodger's farm system this loaded!  But, let's load it some more. Let's not worry about 2017. Maybe 75-80 wins, but let's stockpile more top prospects.  I would start with a conversation with Clayton Kershaw as where he wants to finish his career. Maybe it is in Texas.  Clayton is a good ole' Texas boy and maybe that is his plan. If it isn't, I would seek to lock him up for 8 more years at $40 million per. If not, let's trade him now. While it is easy to ask for Joey Gallo and Jurickson Profar, those two are talents who have fizzled in two cups of coffee.  That really means nothing but it does give you pause. Rougned Odor would have to be included. He's another LH hitter, but he hits lefties just about as well as righties.  I would also want someone the caliber of a Yoan Moncada and a stud pitching prospect like a Lucas Giolito.
Trading Kershaw could net up to six top prospects and would likely have to be a three or four team deal.  I put it in the category of "highly unlikely" but I would explore it, nonetheless.  Adding a Moncada, an Odor and a Giolito would stack the team for 2018 and beyond!  Friedman has kept us competitive while growing the farm and not handing out big contracts.  In times where GM's pass out $100 million dollar deals like jellybeans, the largest contract FAZ has doled out, despite winning two division titles is $48 million – that, Ladies and Gentlemen, is impressive!  But, it's time to get serious.
Andre Ethier has very little value right now, but if he starts out well, he could be a trade-deadline piece for a contending team.  Gonzo has more value and a mid-season trade could be just the right timing for Cody Bellinger to step into first base. A-Gon and Ethier could net another 3 or 4 good prospects.
Kazmir and McCarthy would not bring a lot, except salary relief. The Dodgers have not made money since Guggs took over and are reportedly hundreds of millions in debt (no pity needed – they are fine).  They are not going to keep paying the luxury tax and they have to get under the salary cap.  Right now would be a perfect time.
It's easy and requires no common sense to say "The Dodgers should have signed Greinke, Turner, Jansen, Chapman and traded for Arrenado, Trout and Harper."  No, common sense should tell you that you want to get those guys before they become those guys. You only get that by hoarding prospects.
I can handle one down season… can you?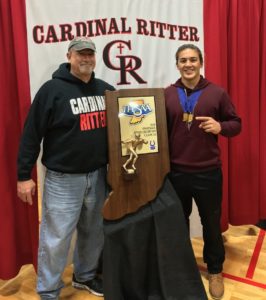 My son and I basking in the glow of his team winning the State Championship in football on Friday.