Greetings!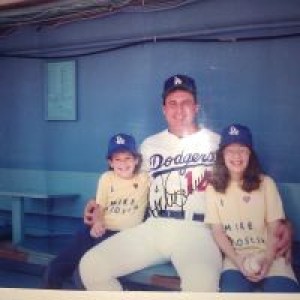 About Scott:
My name is Scott Andes, some of you may know me well while others may not. Most of you will know me as the former co-editor of the now defunkt Lasorda's Lair (now renamed Dodgers Way) Fansided Dodgers blog. I was the co-editor there for 5 years where I shared writing and editing responsibilities with my sister and partner in crime Stacie Wheeler.
Over the course of my five year reign at LL I was able to accomplish many incredible things as I transitioned from a hardcore lifelong Dodger fan to a hardcore lifelong Dodger fan who ran a noticeable Dodger site.
I was a credentialed media member who regularly sat in the press box. I met and interviewed players, grew a pretty large twitter presence, and had numerous articles linked at such well known places such as mlbtraderumors, yahoo, ESPN, and the LAtimes. Most importantly though I wrote a lot of informative articles, brought a unique perspective to the Dodger blogosphere in my own bi-polar way, used way too many commas, and of course pissed off many people with my intense opinion and love of the Dodgers.
My background was originally in IT, but I decided to transition to Dodger writing after reading and commenting on many of the old (some are still around) Dodger sites. Stacie and I were lifelong Dodger fans who grew up going to hundreds of games during childhood. We started our own Dodger blog called Dodgerblueforever before beginning with Lasorda's Lair. From then on I was hooked and never looked back.
After Lasorda's Lair I kind of walked around in a daze confused until Mark Timmons of Ladodgertalk found me and I wrote for him for a few months until he retired from the interwebs and I stumbled over here (Thank you Mark for everything). Still dazed and confused but battle hardened and ready for whatever may come my way.
My hope here is to bring my unique brand of personality, humor and informative articles to all of you so that you can share in my love of the Dodgers. We might not agree on everything, but we can all agree on one thing….We all love the Dodgers and want to see them break this nasty World Series drought. Play ball everyone!
Go Blue!
About Oscar: -Senior Writer/Content Developer
I was born in the shadow of Dodger Stadium and immediately drenched in Dodger Blue. Chavez Ravine is my baseball cathedral, and Vin Scully has been the golden voice of summer all of my life. Tommy Lasorda remains the greatest Dodger manager I have ever known. My favorite things are great coffee, cold beer, and the Dodgers beating the Giants. I also write about my baseball card hobby at All Trade Bait, All the Time.
Contact Oscar at [email protected] and follow on Twitter @omsports42
About Adrian:
My name's Adrian Garcia, i'm currently a student at Whittier College and after nearly 2 years writing elsewhere i'm happy to be at LA Dodger Report where I look forward to giving a different spin on what the team is doing. The vision for the organization is much different now than it was when I first started writing which makes for some great content but also some very heated debates. I love talking minor league baseball and discussing how the future of the organization will look like almost as much as the major league team, but as always, the players make the team worth following, Clayton Kershaw is probably the best example of this. Thanks for reading!
Contact Adrian at [email protected] and on twitter at @marrnotmaher
About James Moya:
Contact James at [email protected] and follow on twitter @liamgalla
Hi I'm James Moya. I am an avid Dodgers fan. I graduated Cal State Fullerton with a Bachelors in Communications. I used to freelance at the San Bernardino Sun. I'm excited about this opportunity to write for LA Dodger Report to gain experience. I'm a straight shooter on my opinions and I hope to get some good conversations going. My dream has always been to report on the Dodgers because Baseball is the National Past-time. I hope you enjoy the ride with me.
About Chad Clarke
I grew up in San Diego a lifelong Dodger fan. The only nosebleed I've ever had was minutes before Game 1 of the 1988 World Series. I used to dress up as Steve Sax every Halloween, and Mike Piazza is my all-time favorite player. I patterned my windup in Little League after Orel Hershiser, and called my own baseball video games as if I was Vin Scully. I used to work in basketball, but have been drawn back to baseball in recent years. I'm fascinated with the strategy and decision-making involved in the game, and glad I can write about it here. I love to discuss opposing viewpoints, so feel free to comment and I'll try to respond.