The dictionary defines a bridge as something that is intended to reconcile or form a connection between two things. The Dodgers are looking to build one of those things inside their own bullpen in 2016. How do the Dodgers build a bridge to closer Kenley Jansen? Dodger's fans have been asking that question for several years now. So far the construction has not been completed. Maybe the builders are on union time.
The Dodgers have been looking for that seventh and eighth inning guy for seemingly forever. Unfortunately the bridge keeps collapsing. Again possibly shoddy construction has been the culprit. The Dodger bullpen ranked 19th in MLB last season with a 3.91 ERA and 21 blown saves. Dodger's relievers posted a .249 batting average against and a 1.28 WHIP. There is definitely room for improvement.
How do the Dodgers build that bridge that we keep hearing about?
There should be a lot of competition this spring for the bullpen roster spots and that coveted setup role. Fortunately the Dodgers have a lot of options to choose from and the depth is very good. Today I'll take a look at the top three pitchers that could provide the bridge to Kenley and alleviate a lot of our agita in the late innings. First let's take a look back at the Dodger's late inning bullpen performance from last season.
The Dodger relievers ranked 20th in MLB from the seventh inning on. They posted a 3.77 ERA and a .238 batting average against in 472.2 innings pitched. Although if you look closer you can see that some of the numbers were possibly skewed. Things might not have been as bad as they looked. Dodger relievers allowed just 428 hits and whiffed 517 batters. That comes out to a 9.8 K/9 rate and an 8.1 hits per nine innings rate. The Dodger relievers actually ranked second overall in strikeouts per nine (9.9) and seventh in walks per nine (2.89). FIP registers the Dodgers bullpen with a 3.43 mark.
The one thing that stood out at me was the Dodgers bullpen posted a .317 BABIP (batting average of balls in play) which was one of the highest in MLB. I normally don't like quoting the luck stat, but it could point to the relief corp pitching into bad luck. That number is bound to come down to normal in 2016.
Looking at the relievers assembling this spring I think the top three relievers would be left hander J.P. Howell, right hander Chris Hatcher, and right hander Yimi Garcia. The rest of the guys can fight for the remaining spots.
J.P. Howell
Strengths – Durability, dominant against left handers
Weaknesses – susceptible to right handed bats, late season slumps
Howell has been with the Dodgers since 2013 and has been considered one of the most consistent performers since coming over from Tampa Bay. Indeed over the last three seasons Howell has posted a 2.03 ERA across 155 innings pitched for the Dodgers. He's averaged 66 games per season proving he's always been very durable.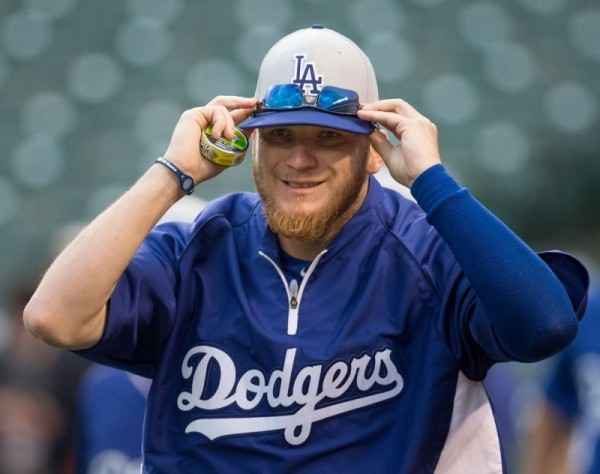 Last year Howell had a massive split between left handers and right handers. This is why the Dodges probably view him more as a lefty specialist than a true setup man. However in 2014 he held right handers to a .197 average against and a .268 wOBA. In 2013 he held right handers to a .218 average against. So 2015's struggles against right handers may have just been an anomaly.
The problem with Howell seems to be his late inning slumps. He seems to get tired when the season reaches its final month. More specifically people always cite his .360 BAA in September of 2014. Last year he had a rough August (.412 BAA) but recovered to have a good September (.238 BAA). He had some trouble with runners in scoring position (.314 BAA) and high leverage situations (.345 BAA)
Overall his body of work is solid. Howell's numbers indicate he pitched into some poor luck. I wouldn't be upset at all if he's used to form that bridge to Kenley.
Chris Hatcher
Strengths – high ground ball and strikeout rates
Weaknesses – pitching with runners in scoring position, low strand rates
Hatcher would be another good choice to bridge to Kenley. Unfortunately he had a rocky start to his Dodger career. The first four months of the season he was horrible. His release point was all off and eventually he landed on the disabled list with an oblique injury. After being out for several weeks he returned to pitch very well.
His worst performance came in the early months of the season. However he saved his best work for the last two months of the year. In August Hatcher limited opponents to a .167 batting average against, and a .186 batting average against in September.
Hatcher's problems also came with runners on base and in scoring position. With RISP Hatcher allowed a .351 BAA and .274 BAA with 24 earned runs allowed in each category. Hatcher throws hard averaging 95 on his fastballs and 87 on his slider and changeup.
A good strength about Hatcher is his ability to keep the ball in the park. He allowed just four home runs all season. Hatcher's ground ball percentage was 43.1% last year. Overall Hatcher posted a 3.69 ERA in 39 innings pitched while posting 45 whiffs against just 16 walks. Hatcher has a good arsenal of pitches and is able to display good command. The converted catcher should be able to provide a more solid season presuming he remains healthy.
Yimi Garcia
Strengths – very good strikeout to walk ratios, limits base runners, high swing and miss percentage.
Weaknesses – too many home runs and fly balls, inexperienced.
The third option would be second year hurler Yimi Garcia. The Dominican youngster enjoyed a good start to the season before falling victim to a league adjustment and mid season lull. The league seemed to figure him out and Garcia was unable to make the proper adjustments.
Overall his body of work was good. Garcia posted a 3.34 ERA with 68 strikeouts and 10 walks across 56.2 innings pitched. His strikeout numbers were great. Garcia whiffed 10.8 batters per nine and had a 7-1 strikeout to walk ratio. He allowed just 7.0 hits per nine as well doing a great job of limiting base runners.
Garcia was very good down the stretch as he posted a 1.23 ERA and 2.50 ERA in August and September with a .160 and .195 batting averages against respectfully. Garcia was just as good with runners in scoring position and high leverage situations. With runners in scoring position Garcia allowed a .150 batting average against and a .250 BAA in high leverage spots. Garcia's strand rate was 85.2% against right handers and 73.7% overall. If Garcia has one chink in the armor it's the home run.
Garcia allowed eight home runs last season with the Dodgers and posted a 1.3 home run per nine rate. His fly ball percentage was 54.2% compared to his 28.5% ground ball rate. He strikes out a lot of guys but can be homer prone.
I recently read an article stating that Garcia's spin rate (measurement of movement on a pitch) was one of the highest for any reliever in all of baseball. That comes as no surprise as he's always had that killer movement on his fastball and cutter. Garcia mainly throws a fastball/slider/cutter combo. He also has a changeup that he doesn't throw very often.
If I had to make a choice, I would probably pick Garcia. He's only 25-years old and his ability to miss bats is through the roof. Howell and Hatcher are good too. The Dodgers are going to be relying very heavily on these three guys to build the bridge to Jansen. If these three relievers can stay healthy the Dodgers may finally have that bridge instead of a rickety rope walkway. Somebody have the contractors on speed dial just in case.
(Featured image photo credit- usatoday.com)