Every fan of the Boys in Blue knows that Rich Hill, the Dodgers' great southpaw, chose a fantastic nickname for Player's Weekend (Dick Mountain), and he delivered to us a wonderful highlight during the Fourth of July game at Chavez Ravine.
That epic play at the plate led to the phenomenon known as "The Greatest Jersey in Sports History – The Shroud of Chavez Ravine – The Dick Mountain Timeshare Jersey".
This legendary jersey, complete with Dodgers home plate dirt on its backside, was purchased by a group of Dodgers fans (your faithful reporter included in the group), with ownership split as a time share. The story of its travel from the back of Rich Hill to the backs of our group of dedicated and fun-loving fans can be found here, in a story written by AJ Gonzalez for Dodgers Nation.
Last night, Rich Hill signed autographs at a sports store in the Puente Hills Mall, and  @lawbibliophile, the current timeshare owner, brought it down there, welcoming all comers to gaze upon the sacred jersey. Being an owner myself, I hightailed it like a madman through the 60 freeway traffic, anticipating what it will be like to hold it close to my Dodger Blue heart for the very first time.
I was not disappointed.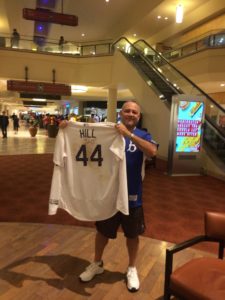 I immediately unbuttoned it and placed the holy shroud upon myself. I'll be honest, I felt a chill as it draped my shoulders.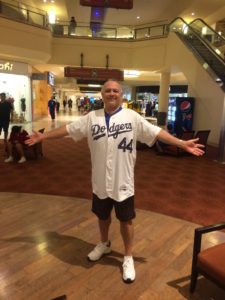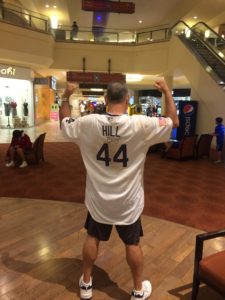 After basking in that glory for a few minutes, we walked over to the Dodgers fans who were in line for Hill's autograph – and there were plenty of folks there. That line stretched around the corner and just about to the back walls of the mall.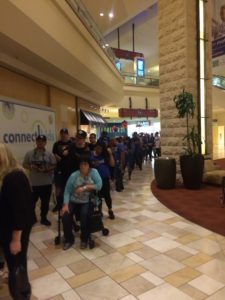 At the risk of looking like complete idiots, we went along the line asking if anyone knew the story of the Dick Mountain jersey. There were some who looked back at us with blank stares, but we found a few folks whose eyes lit up with recognition. We talked with them and offered the holy shroud for them to touch and take photos with. Here are a few of the fans who were just as geeked about Dick Mountain as we are.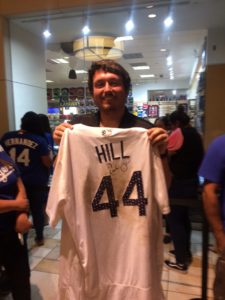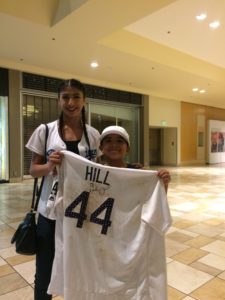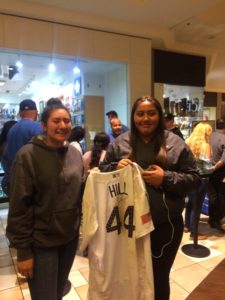 It was a blast spending time with all the fans at the mall last night. Thanks to all of you who shared the Dodgers love with us.
Here's a parting shot with me and my partner in Blue crime @lawbibliophile: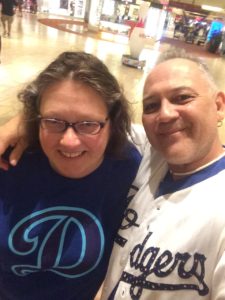 One last note – the jersey has its own Twitter account, which is controlled by the current jersey-holder. If you're so inclined, you can follow at @spa_dick to see all the sacred jersey's adventures.
May Dick Mountain forever rise!