Championship caliber teams have strong bullpens. If your team is leaking runs in the late innings then you're not going to go anywhere in the standings. This explains the 2018 Dodgers, a good team cursed with a gaggle of lousy relievers. Once again the Dodger bullpen snatched defeat from the jaws of victory for the boys in blue in the third game of the four game series against the Rockies on Saturday night in Denver. It's a different loser every night coming in to blow leads in the latter innings. This time it was JT Chargois giving up a walk-off three-run home run to Colorado backup infielder Ryan McMahon with two outs in the bottom of the ninth. The Dodgers lost again 3-2.
It was a total shame because Walker Buehler pitched one heck of a game. The Dodger youngster tossed seven scoreless innings allowing just four hits, striking out six and walking three over 103 pitches. The Dodgers had a 2-0 lead when he left the game. Buehler induced three double plays during his outing. One was a fantastic acrobatic diving stop and shovel throw from Brian Dozier in the third inning that got the Dodgers out of a jam. Check it out below because it was worth seeing.
There was a scary moment when Buehler collided with Max Muncy on a grounder in the fifth inning. Somehow thankfully by the grace of god Buehler was not hurt on the play. He stayed in the game and seemed fine, but the collision looked bad. Note since Buehler made an adjustment in one of his bullpen sessions he's been great. Over his last three starts Buehler had posted a 1.4 ERA.
Walker Buehler somehow is continuing to pitch after this. pic.twitter.com/KJ9mIX6yw6

— Fabian Ardaya (@FabianArdaya) August 12, 2018
Dodgers  2 6 1
Rockies    3 6 0
WP-Shaw-4-5
LP-Chargois-2-4
HR-Puig-15-McMahon-4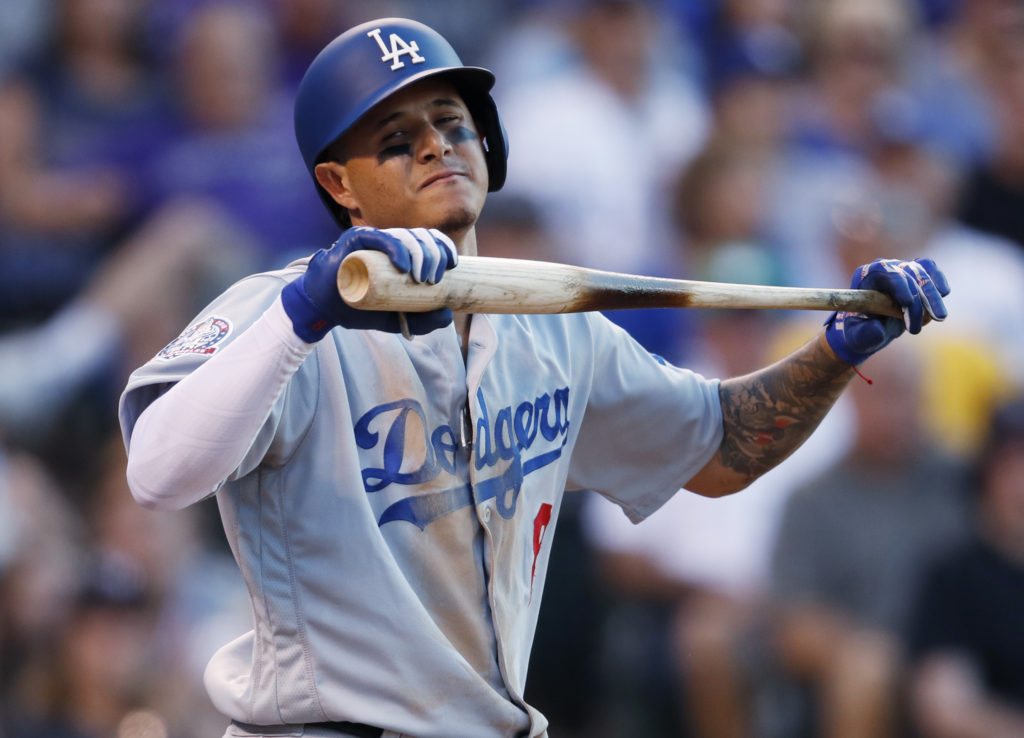 The Dodgers scored one run in the first and another in the second against opposing starter Kyle Freeland. The Colorado left hander entered the game with the lowest ERA (2.18) for a Colorado pitcher in franchise history. The Dodgers scored in the first when Manny Machado doubled and Justin Turner's triple over Charlie Blackmon's head plated Machado for the first run. Yasiel Puig swatted a massive solo home run in the second inning that put the Dodgers ahead 2-0. That was Puig's 100th career home run. Freeland settled down nicely and didn't allow anything else for the rest of the game. Freeland pinched out ten Dodger batters over seven frames to earn a no-decision.
Notably absent from the Colorado lineup was Nolan Arenado, who is still battling a shoulder problem. He did however pinch-hit in the ninth inning. With Arenado out and the Dbacks losing in Cincinnati, the Dodgers looked to have an advantage. Caleb Ferguson pitched a scoreless eighth inning and I don't understand why he wasn't allowed to stay out for the ninth. But he probably would have blown it anyways.
Scott Alexander started the bottom of the ninth with a strikeout on Carlos Gonzalez. But Trevor Story doubled down the line and Dave Roberts came out with the hook. In comes the next bum, JT Chargois, who has mostly been unimpressive this year. He hits Arenado (off the bench as a pinch-hitter) with a pitch to put runners at first and second. It looked like the Dodgers possibly dodged a bullet as Brian Dozier made another fantastic play, a diving stop on Ian Demsond's grounder up the middle to get a force out at second. With runners at first and third Chargois immediately served up a three-run home run to McMahon to blow the game. Yup, Dodgers lose.
With Kenley Jansen out indefinitely the entire Dodger bullpen is comprised of Castoffs and journeymen. You can blame Roberts all you want but he doesn't have anybody in that awful bullpen to go to. Who's he supposed to bring in? Rosscup? Vendiite? Baez? They all suck. The Dodgers are going to have to rebuild the entire bullpen from scratch and I don't see how that can happen in the middle of August. Expect a lot more losing.
I'm as furious as you are right now. Memo to Dodger brass: Stop constantly searching for match-ups. Find someone reliable to pitch the ninth inning. Enough is enough. The Dodgers look to lose again on Sunday as the series and road trip wraps up. Rich Hill battles Chad Bettis at 12:10 PM PST in the series finale.