The Dodgers have last season's coveted World Series Trophy ensconced on their mantle and must now defend their crown. But things could have been much different had Tampa bay manager, Kevin Cash, not pulled his white-hot pitcher, Blake Snell, in the sixth inning of the World Series Game 6 after giving up only his second hit of the night.
As we all know, Rays' relief pitcher, Nick Anderson, followed and immediately surrendered a hit to Mookie Betts, and shortly thereafter, the Dodgers took the lead after being down 1-0 and went on to a series-clinching 3-1 victory.
Understandably, Dodgers' fans were delighted with Cash's micromanaging and secure in the notion that they wouldn't have to see Snell deal very often, if at all, due to his residence with the Rays in the AL East.
But a funny thing happened over the weekend. LA's chief competition in their division, the San Diego Padres, just landed Snell on their roster after swinging a deal with the Rays where they gave up high-end prospects to acquire the services of the 2018 AL Cy Young Award winner. San Diego has been on the rise recently after spending years as the cellar-dweller of the NL West. Now, they are a bona fide threat and a dark horse to contend for the National League pennant. The handicappers don't expect the Dodgers to stand still with so many quality free agents sitting on the open market. And although Los Angeles is the favorite at +400 to win the World Series in 2021, there is never such a thing as too much quality pitching. One of the objects of LA's affection could very well be Trevor Bauer. The 29-year-old is fresh off an NL Cy Young season where he hurled his way to a 5-4 record with a 1.73 ERA and a 0.79 WHIP.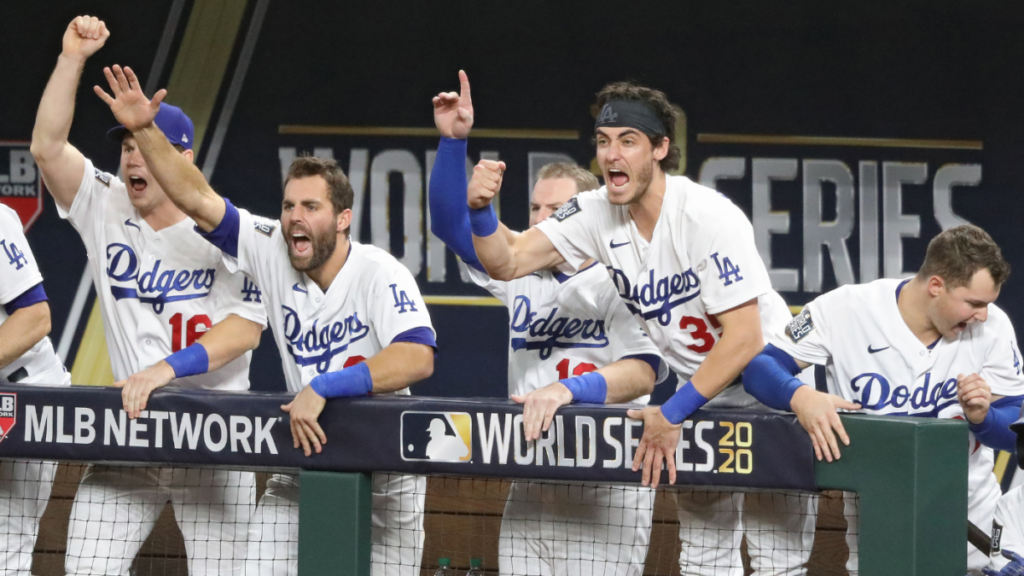 Dodgers Look to Bolster Pitching
But whether Bauer lands with the Dodgers or not, the verdict is still out as to whether another former Cy Young Award winner will join the rotation for the 2021 campaign, David Price. The 35-year-old has yet to pitch an inning as a Dodger after he arrived via the Mookie Betts deal with the Boston Red Sox in February. He opted out due to the global pandemic and his participation this season is still uncertain.
"I think David is very in tune with what is going on, very intelligent," Roberts said. "And so, I don't know. I just love being around him and I know we're better when he's with us. But, as things become more clear, David will make a choice for him and his family."
Reliever, Corey Knebel, an All-Star in 2017, was recently acquired from the Brewers in a trade for prospect Leo Crawford. Manager, Dave Roberts, has been signing pitchers on the fringes to bolster his farm system and serve as a healthy reserve if the big club needs to summon them. He is also amenable to making changes to keep things fresh and the players motivated.
"I just believe that changing pieces and infusing some new life, some new energy, for me, I think is a good thing," he said.
"It doesn't always work out the way you might envision, but I definitely think that the culture is certainly in place, but I do think adding new pieces is always welcome for me. But they've certainly got to be the right pieces."
Aside from pitching, one of the biggest question marks left unanswered is the status of free agent third-baseman, Justin Turner. Will he or won't he return to LA?
"I think what Justin does on the field, in the clubhouse, in the community, he's one of the Dodger greats. He really is. It's been six years he's been with the Dodgers, and he's in that elite company.
"His body of work is really special and unique. But it's a two-way deal here: it's the Dodgers and Justin and his family. For me, selfishly, I'll take him for as long as I can have him."
If Turner goes elsewhere, the Dodgers have expressed interest in AL MVP and former New York Yankees, DJ LeMahieu. What a boon this addition would be for an already lethal six years he's been with the Dodgers LA lineup. The 32-year-old right-handed hitter is four years' Turner's junior and has plenty of pop left in his bat for many seasons to come.
Will the Dodgers take a swing at both LeMahieu and Bauer? Stay tuned, we will find out soon enough!