Today's afternoon game (morning for us in LA) brought Clayton Kershaw and A.J. Ellis up against rookie Atlanta pitcher Matt Wisler.
This getaway day also featured a different lineup for Dave Robert's Dodgers; for the first time in his young career, Joc Pederson batted clean up – on his 24th birthday, no less!
Here's how the rubber match played out…
1st inning
Dodgers
Joc Pederson skied a soft fly ball to left that scored Corey Seager. Dodgers drew first blood.
Braves
Back to back doubles for the first two Atlanta batters tied the game. That was all for them, but it was enough.
2nd inning  Dodgers 1 – Atlanta 1
Atlanta
Three quick singles brought bases loaded and nobody out.
Kershaw bore down and got his first K of the game, bringing Wisler, the pitcher to the plate.
4-6-3 Dodgers double play! Inning over. Whew!
3rd inning  Dodgers 1 – Atlanta 1
Atlanta
It looked like Kershaw settled in as he recorded two more Ks.
4th inning  Still tied at 1
Dodgers
Adrian Gonzalez and Joc opened up with back to back singles.
Wasted.
Also in the inning, Clayton Kershaw uncorked a 46 mph Eephus pitch which blew the internet's mind:
5th inning  Still tied
Atlanta
Kershaw got a 1,2,3 inning and notched his 6th strike out of the game.
7th inning  Tie score
Dodgers
Kershaw's high fly ball to CF led to a nasty collision between Nick Markakis and Mallex Smith. It looked painful, but nobody was hurt, and Kershaw ended up on second.
Corey Seager rapped a sharp single and Kerhaw rumbled home.
Play at the plate!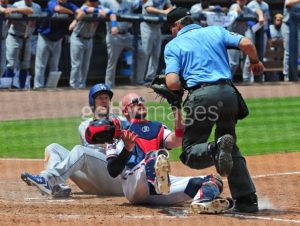 Called out by out of position, lousy umpire Angel Hernandez, skipper Dave Roberts called for a replay review. It looked to me like Kershaw 's left foot was in before the tag, but the out was upheld.
Nothing much happened for the Dodgers after that, except Kershaw kept the game tied through eight.
The Dodgers threatened in the ninth, but birthday boy Pederson struck out with the go-ahead runner on third. He chased two lousy pitches with giant swings, and just plain missed on the best pitch he saw, earning a Golden Sombrero for the day. I think it'll be a while before the skipper trusts the kid in the clean up spot again.
10th inning  Score tied. 
With Enrique Hernandez on first, Yasmani blasted a Dodgers double to CF. Kiké scored from first to break the tie!
Atlanta
The big man,
Kenley Jansen
came to the mound with a one-run lead to protect.
K
Fly out right field
Fly out center field
Dodgers win!!
With that series win, the Dodgers bid "Good riddance" to Atlanta, and perhaps the worst infield in the majors. That thing they call a diamond looked like the No Man's Land between the trenches of World War 1.  Stories are floating that the team may have their union complain to the league about their playing conditions. Good luck with that, because that field is a disgrace to the game.
What wasn't a disgrace was the first half of this road trip. On to Colorado!
Clayton Kershaw went 8 innings, with 10 hits, 1 run, 1 walk, and 10 K's.  ERA 1.5
Doubles: Utley and Grandal