The Dodgers Nation was shaken yesterday by dire news coming out of New York that former Dodger Pedro Guerrero was gravely ill. Some initial reports even claimed the World Series star had passed away. Thank goodness those reports were wrong.
The good news this morning – according to NBC Sports – is Pedro is conscious, has been taken out of ICU, and is even responsive to some commands. He does face surgery to relieve pressure on his brain, but so far things are looking positive.
Guerrero was in a car with his wife, Roxanna Jimenez, when he suffered a massive stroke, his second in recent years. Doctors were not optimistic at first.
"Initially, doctors told me I should sign a document and get him disconnected from the machine and declare him [dead], but I refused until I learned more about his affliction and after I spoke to the doctor that operated on him in Manhattan. Thank God we made the right decision." – Roxanna Jimenez
Pedro was a fifteen year veteran of the major leagues. He played for the Dodgers and was traded to the St. Louis Cardinals for John Tudor during the Dodgers 1988 World Series run.
Guerrero missed out in '88, but he won the World Series in 1981 with the Dodgers, and was voted co-MVP of that series along with Ron Cey and Steve Yeager. He played well, but his biggest moment came in the clinching Game 6, when he hit a bases loaded single, a triple and a home run, amassing five RBIs and eight total bases.
I have two personal memories of Pedro, the first is from attending games at Dodger Stadium. I loved the way his name was announced when he came up to bat. The announcer would boldly stretch his name out into a joyous: "Now batting, Paaaayyyyyyy – drooooooohhhh Guuuuuuuuuu- rare – ohhhhhhhhhhh!"
My other memory was attending the Dodgers old-timers game last year. Pedro was there and happily talking with folks in the crowd. He was flashing a big smile and looking like he wouldn't rather be anywhere else.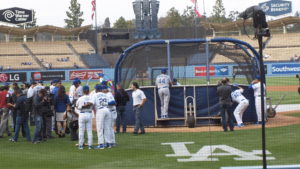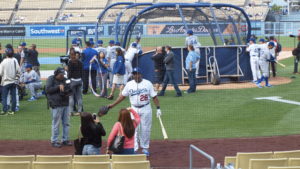 Get well soon Pedro!