It's been a while since my last article. What could bring me out of my early season funk? Why it's a come from behind Dodgers win over those arrogant Padres on Sunday night baseball of course. The Dodgers down to their last out in the top of the ninth, stormed back to beat those upstart Pads thanks to a ninth-inning home run off of Josh Hader from Mookie Betts, a big go-ahead base hit from Michael Busch, and a huge two-run home run from James Outman in extras. After the Padres put up an immature image of Clayton Kershaw crying on the jumbotron after their lone win of the series on Saturday night, it was the Dodgers who made San Diego tear up on national TV.
The game was initially a great pitching matchup between Julio Urias and Joe Musgrove. Those two veterans battled, with Musgrove outdueling Urias by a sliver. The Padres had jumped out to a 2-0 lead in the first when Fernando Tatis Jr. Manny Machado and Xander Bogaerts doubled. Although Bogaert's double was charitable scoring as the ball clanked off of Mookie's glove. Mookie would make up for it later.
Poor defense helped set up the Dodgers with their first run in the top of the sixth. Freddie Freeman reaches on a Juan Soto error and Will Smith cashes him in with a double to left. That would make it a 2-1 game. Smith added a second double later in the night and was 2 for 4 with two doubles, a walk and a run driven in. The Dodgers had a chance to add on more, but crafty side-armed left hander Tim Hill relieved Musgrove and struck out Max Muncy. The Dodgers should have let DH Jason Heyward hit, but for some inexplicable reason they pinch-hit .178 hitting Miguel Rojas who unsurprisingly softly lined out. I have no idea how Rojas is still employed by the Dodgers let alone any major league team.
PRIME TIME MOOKIE. pic.twitter.com/LRbDWPfgr2

— Los Angeles Dodgers (@Dodgers) May 8, 2023
Urias was hooked with two outs in the sixth. There were two on and two outs for the Padres when Yency Almonte came on to strike out Brett Sullivan. Almonte stayed in and recorded a 1-2-3 bottom of the seventh to keep the game in reach for the Dodgers. The Dodgers had another chance in the top of the eighth when Smith notched his second double, and Muncy walked to put two on and nobody out. The Dodgers atrocious hitting with runners in scoring position continued when rookie Michael Busch struck out, James Outman flied out to left and Miguel Vargas lined out to short.
Move to the top of the ninth. San Diego closer Josh Hader trotted into the game while the Padre faithful were foaming at the mouth. Hader entered with a 0.50 ERA on the season. So naturally the ESPN announcers had already declared the game over. The ESPN announcers had been praising the Padres all night so I'm sure this inning really stuck in their craw. With two outs, the Dodgers were down to their last out when Mookie muscled a ball over the left field wall into the seats to tie the game.
THE ROOKIES. pic.twitter.com/fwMwLXIKHE

— Los Angeles Dodgers (@Dodgers) May 8, 2023
Caleb Ferguson was outstanding, tossing a scoreless bottom of the ninth. Fergie whiffed Sullivan and Trent Grisham to get the game into extras. In the top of the tenth, Will Smith's grounder moved ghost-runner Freeman to third. But San Diego rookie Brent Honeywell got Muncy looking to record the second out. The Dodgers rookies came to the rescue. Busch roped a single to left to score Freeman and put the Dodgers ahead. Then after a balk advanced Busch to second, Outman made sure he would be able to walk home by crushing a two-run shot to right. Dodgers lead 5-2.
FINAL: #Dodgers 5, Padres 2 pic.twitter.com/6Z4Rqq5Mwp

— Los Angeles Dodgers (@Dodgers) May 8, 2023
With the Dodgers up 5-2, San Diego fans and the ESPN announcers were despondent. Dodger's closer Evan Phillips closed up shop by retiring Tatis, Soto and striking out Machado. Dodgers win it 5-2! Tough luck ESPN. Those guys always hate on the Dodgers and the boys in blue make them all look like fools. The Dodgers have a happy flight to Milwaukee where they will open a three-game series tomorrow. Now go screw yourself San Diego.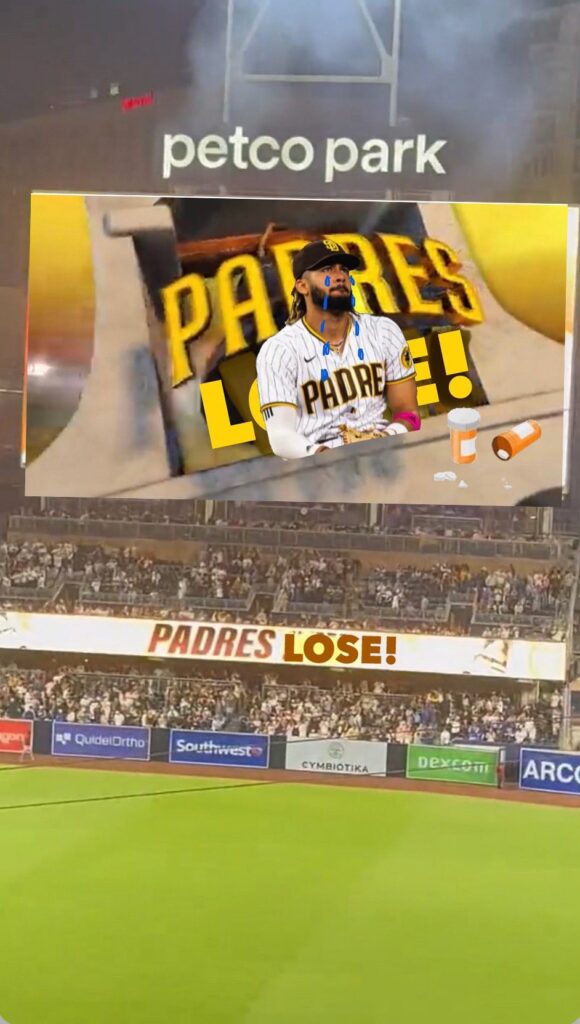 Photo credit to FreddyAllDay22
Go Blue