The Dodgers are back home and preparing to open a five game home stand beginning on Tuesday night with a two-game interleague set against the Oakland A's. Not only do we have some great baseball at Dodger Stadium this week, but we also have some great food making a debut on the new home stand. The Dodgers Levy Restaurant team is unveiling some awesome new plates on the new home stand. You can check them out below. Just be sure to not eat too much. I'm just kidding of course, pig out until you can't walk. Just make sure to have a designated driver.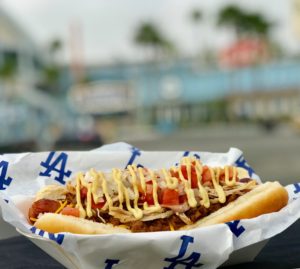 HOMESTAND FOOD SPECIALS (April 10-15)
Athletics Series (4/10-11):
Oaktown Poke Nachos
Ahi tuna on top of cream cheese wontons, drizzled with eel sauce, spicy mayo, green onion, black sesame seeds and bonito flakes
Belli Bomb Bao
Steamed lotus buns with smoked "Char Siu" pork belly, broccoli slaw with sesame dressing & Thai peanut sauce
D-backs Series (4/13-15):
Desert Chili Cheese Dog
Bacon wrapped hot dog, house made chili con carne, grated sharp cheddar cheese, diced tomato & onion, yellow mustard
Chorizo Torta
Chorizo sausage split in half, ranchero bean spread, shredded lettuce, sliced tomato, queso fresco, smoked jalapeno aioli
The first pitch on Tuesday night is scheduled for 7:10 PM PST. Hyun-jin Ryu will take the mound for the Dodgers against Oakland southpaw Sean Manaea.