The Dodgers essentially punted away game 4 of the NLCS on Wednesday night in a 3-2 loss to the Cubs. They ruined a chance to sweep and clinch their first National league pennant since 1988. Don't worry though Dodger fam, they get another chance tonight with Clayton Kershaw on the mound. Of course when I say punted, I don't really mean that. What Oscar said was correct. They took their foot off the gas by putting automatic outs Curtis Granderson, and Chase Utley into the lineup. Red-hot Austin Barnes and Logan Forsythe were on the bench and did not start.
I still love Utley, but let's face it he doesn't play much and it's hard to hit when you don't hit. He's been ice cold this postseason (0 for 9) and has not gotten a hit. But there is no reason to ever play Granderson in a postseason game again. He's a terrible hitter and the results (sombrero) were not surprising. Roberts went with career numbers and match-ups and it didn't work out. Hopefully he puts in the regular lineup that's helped get the boys in blue to within one game of the World Series tonight. Kershaw needs a lot of support.
Speaking of Kershaw, he'll take the mound looking to get some redemption and exorcise those demons. I wanted a sweep but maybe this is better. Having Kershaw close out the series in Wrigley Field and putting to rest all of those stupid narratives that he can't pitch in the postseason is just as good, if not better. Kershaw hasn't been great in his two postseason starts this season. He's allowed six earned runs over ten innings between one NLDS start against Arizona and one NLCS start against the Cubs. He's struck out 11 and walked 4 over those ten frames. So hopefully we see the real Kershaw tonight. And we hope he can put all of those memories from last year's NLCS to rest.
The Cubs will counter with Jose Quintana. The left hander gave the Dodgers some trouble in game 1 when he faced off against Kershaw. He allowed two earned runs on two hits over five frames while striking out four. The Dodgers will be rolling out their regular lefty killing squad lineup again. Charlie Culberson returns playing shortstop and batting eighth. Chris Taylor moves back to center field and Enrique Hernandez will be in left. Logan Forsythe is back at second base and Austin Barnes will be behind plate. Here's the Dodger's lineup for game 5.
Dodgers Lineup
#ThisTeam // NLCS Game 5:
Taylor CF
Turner 3B
Bellinger 1B
Puig RF
Forsythe 2B
Hernández LF
Barnes C
Culberson SS
Kershaw P pic.twitter.com/BRivzyIkfe

— Los Angeles Dodgers (@Dodgers) October 19, 2017
Chicago Lineup
Here is tonight's #Cubs lineup.

NLCS Game 5 preview: https://t.co/iReetvnkgl pic.twitter.com/ho2MCowtqN

— Chicago Cubs (@Cubs) October 19, 2017
Game time – 5 PM PST- TV-TBS
I have total confidence in Kershaw. I think this is the night the Dodgers do it. The Dodgers still have a big advantage being up 3-1. The Cubs have burnt most of their pitching staff and Wade Davis made nearly 50 pitches last night in game 4. Is this the night? Will the Dodgers finally do it? Tune in at 5 to find out.
If the Dodgers wrap it up tonight and clinch the pennant you can purchase official Dodgers National League championship gear by using this link here.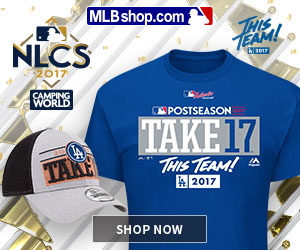 Go Blue!