Adam Liberatore is a 29-year old left handed reliever the Dodgers acquired on November 20, 2014 from the Tampa Bay Rays alongside Joel Peralta for flame throwing youngster Jose Dominguez and minor leaguer Greg Harris. The trade wasn't considered any kind of game changer. Dominguez was a hard throwing rookie with control issues. Harris was a non-prospect at the time.
Liberatore was originally drafted by the Rays in the 21st round of the 2010 amateur draft but never made it to the majors in Tampa Bay. He didn't make his MLB debut until he joined the Dodgers in 2015. Liberatore's first season with the Dodgers he was moderately effective. He tossed 29.2 innings pitched and appeared in 39 games. That year he posted a 4.25 ERA/3.40 FIP and struck out 8.8/9. The southpaw whiffed 29 and walked 9 while allowing 7.9 hits per nine innings and just 3 home runs.
Those are decent numbers but certainly not great. That season lefties hit just .242 (15 for 62) against him with a .671 OPS. However something clicked for Liberatore in 2016. He ended up becoming one of the Dodger's most reliable relievers throughout the 2016 season.
Last year Liberatore pitched 42.2 innings and appeared in 58 games while posting a 3.38 ERA/2.89 FIP. He increased his strikeout rate to 9.9 per nine innings (47K/17BB) and allowed less hits. His hits per nine rate lowered from 7.9 to 7.2 and he did a great job of keeping the ball in the park allowing just two long balls.
He was especially tough on left handers. Liberatore limited left handed bats to just a .171 (14 for 82) BAA with a .494 OPS against. He was excellent at home, posting a 1.93 ERA at Dodger Stadium. He was good and he was so good that during the summer he broke a Dodger record for consecutive scoreless outings for a reliever. On July 9 he broke John Candelaria's record when he recorded his 24th consecutive scoreless appearance. Liberatore did not allow an earned run from May 18-July 22 which spanned 29 consecutive scoreless outings. He finally allowed 3 earned runs on July 24 against the Cardinals.
We knew something was wrong when he gave up those runs considering he had been so lights out for most of the season. Indeed there was something wrong. Liberatore suffered a late season injury that limited his playing time during the final two months of the season. He was still pretty effective down the stretch despite pitching hurt. Liberatore ended up having offseason elbow debridement surgery.
What was the reason for Liberatore's sudden success in 2016? I'm not sure. It could be contributed to a few things. Liberatore is a three-pitch reliever relying primarily on a four-seamer that he throws from 91-93 MPH, a slider, and a change. If we look at the spin rate and pitch type charts we do see some movement from 2015 compared to 2016.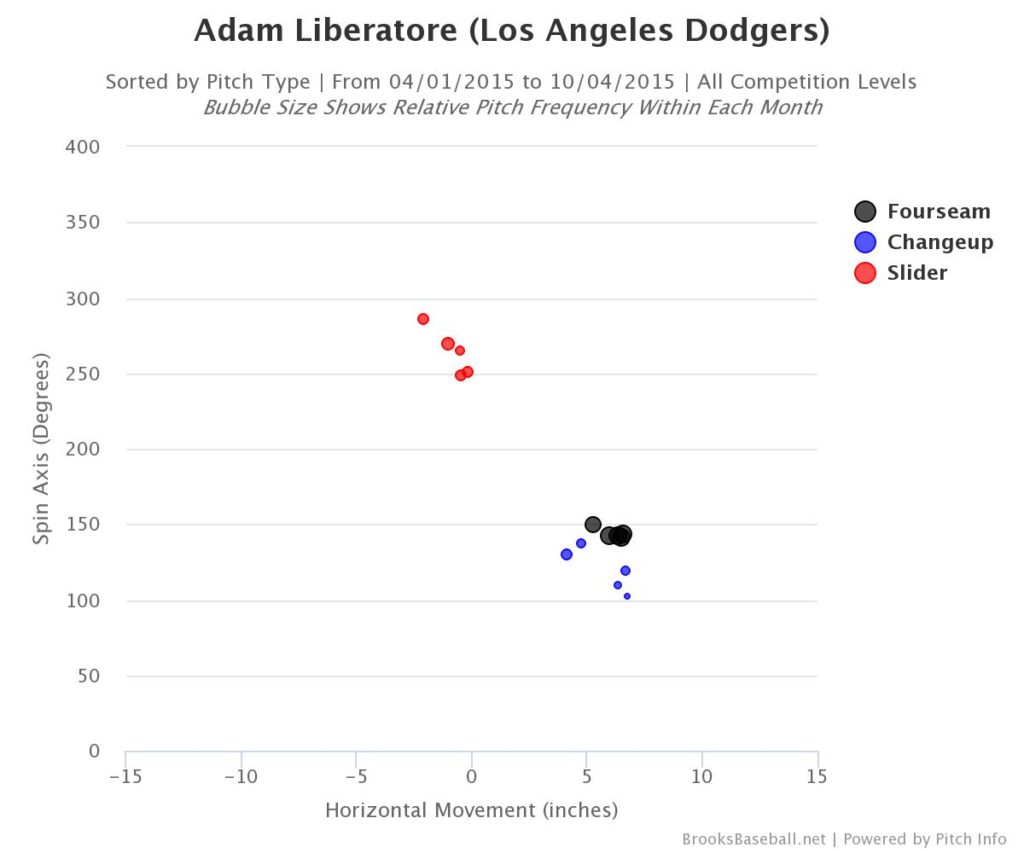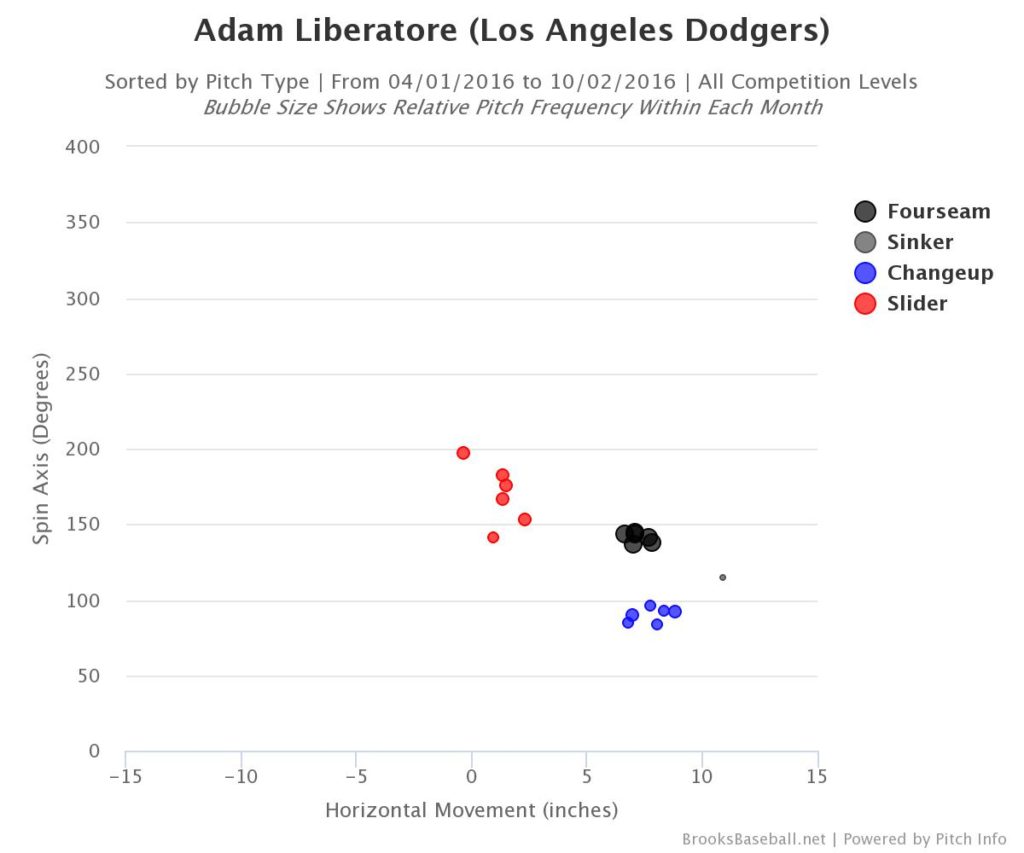 If we compare his pitch spin rates we do see some differences from 2015 to 2016. His slider had less spin in 2016, but the rest of his pitches had more horizontal movement. His changeup had more spin/movement and he relied heavily on that pitch for a lot of swings and misses in 2016.
He also threw his four-seamer slightly harder which may have helped somewhat. Perhaps he took advantage of better pitch sequencing? Or maybe solid pitch framing from catcher Yasmani Grandal helped as well?
Either way there is sure to be a lot of competition for spots in the Dodger bullpen this spring. If he is healthy, Adam Liberatore could still be a reliable late inning option for the Dodgers in 2017. I think he should make the club and push Luis Avilan and newly acquired Vidal Nuno off the roster. Don't forget about him.