Our good friends over at numberFire.com have released their projections for the 2017 season. They have projections out for all 30 clubs, including league wide projections as well. Projections are always fun to look at before the season begins. Projections are a good way to gauge how a player or team might perform during the season. Of course remember that these are just projections. None of them are set in stone. A player or team may significantly surpass their projections, or they may do the opposite and underachieve.
Here is a list of numberFire's projections for the Dodger's position players.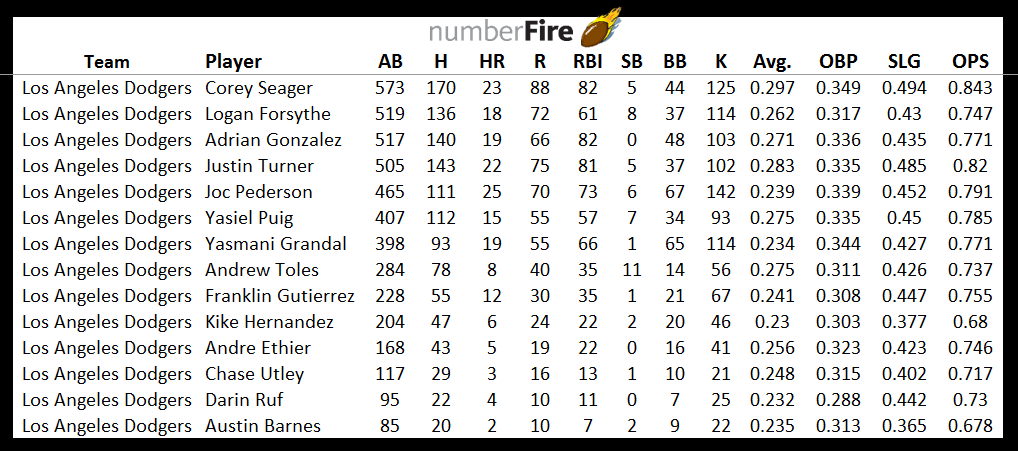 Notice how NF does not project any Dodger to bat over .300, although Corey Seager comes close with a .297 average. NF also thinks he will have the highest OBP at .349. Adrian Gonzalez is projected for 19 home runs and 66 runs batted in and a .271 average. That equals to a .771 OPS. I personally think that Gonzo will be much more productive than that. Yasiel Puig projects for 15 home runs, and a .275 average. Apparently Joc Pederson will hit 25 home runs, and Justin Turner will smack 22 long balls. Andrew Toles will lead the club with 11 stolen bases. That's a stat that will probably be most accurate. The Dodgers running game has been nonexistent for years, although they did improve in their overall base running. numberFire believes the Dodgers will hit 181 home runs. Kike Hernandez will bat .230 with a .680 OPS which certainly means he is ready to go into the hall of fame.
On the pitching side Clayton Kershaw is going to be incredible as usual. He'll win 17 games and post an ERA of 2.39. Kershaw will strike out 249 and walk only 41 for a 0.97 WHIP. Rich Hill will go 11-7 with a 3.30 ERA and strike out 147 over 147 frames. Not great but not bad either way you look at it. I'll take it. Kenta Maeda will toss 170 innings and win 13 games while whiffing 166. Julio Urias will pitch 118 innings and post a 3.49 ERA with a 123/45 SO/BB line. Kenley Jansen will save 40 games and strikeout a boatload of batters again. Brandon McCarthy will be useless.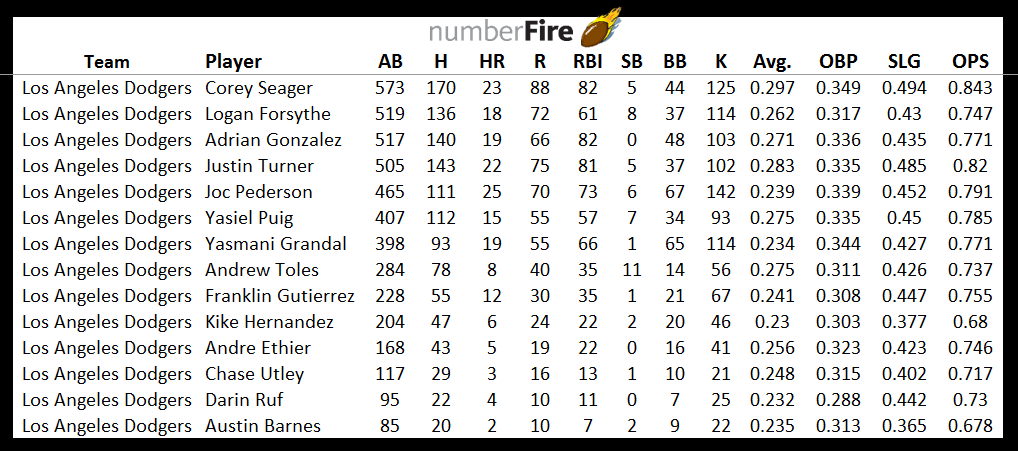 Ignore Yimi Garcia's line. Apparently the guys at NF forgot that he had Tommy John surgery and will not pitch this year.
According to their stats the Dodgers have a 71.6% chance of reaching the postseason and a 7.7% chance of winning the World Series. Like I said above, take all of these numbers with a grain of salt. I firmly believe that projections don't mean anything. The games are played on the field and always have been. They're still fun to look at though.