It's time for me to recap five of my favorite moments from the first half of the season. Let's see if any match up with yours. Here we go, in no particular order. 
April 25 Dodgers vs Giants  The day Cody Bellinger got called up.
At this early point in the season the Dodgers were already showing signs of not being able to score many runs. Cody Bellinger was brought up to provide a spark to the offense. Brett Eibner was sent down.
Bellinger started in left field. He went 1 for 3, with a single and an intentional walk. Cody wasn't the story, however, as Clayton Kershaw dominated the Giants over 7 innings and 7 Ks on his way to picking up his fourth win.
Here's Cody's first major league hit:
June 3  Dodgers vs Brewers Chris Taylor Wins the Battle of the Grand Slams
The Dodgers home run bats were starting to hit their stride at this point, but nobody predicted the amount of grand slams these guys had inside their bats.
Both starting pitchers struggled that day, and it was a bullpen battle by the fifth inning, with the Brewers up 3-2. The Dodgers took the lead 4-3, but the Brewers hit a grand slam plus another home run to go up 8-4. The Dodgers didn't give up and chipped away. They also started their run of bases loaded walks in this game. Cody Bellinger walked to bring in a run and tighten the score to 8-6. Up stepped Chris Taylor:
It was Taylor's second grand salami. There would be more – and from other Dodgers as well.
May 21 Dieter Rhuele plays the Rolling Stones for me !
It was a sleepy Sunday game against the Marlins. The Dodgers were winning, and I sent out a tweet mentioning that although I was saddened when Nacy Bea Hefley retired, new Dodger Stadium organist, Dieter Rhuele, had stepped in admirably, and he was making his own mark with a new generation by blending snippets of rock and roll alongside the traditional sounds of the baseball organ.
Remarkably, Dieter saw my tweet. Even more remarkably, he sent a "thank you" tweet to me. We sent each other a couple more tweets and I said my season would be made if he could sneak in some Rolling Stones.
A half inning later, I heard the unmistakable melody of Paint It Black. I was floored!
The organ in my life's baseball cathedral was playing music from my favorite band…just for little ol' me! It lasted only seconds, but it will remain one of the most vivid and happy Dodger experiences of my life.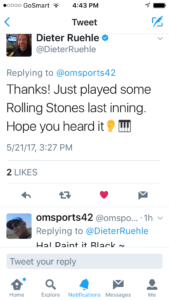 June 11 Dodgers vs Rockies  Kíke with a 13 pitch walk
Just as we saw ealrier in the month, the Dodgers mounted another late inning rally to win the game with walks and dramatic grand slams.
In the bottom of the eighth, Cody Bellinger hit a solo home run to make the score Rockies 7, Dodgers 4. Yasmani Grandal Singles and Yasiel Puig walked. Up came Enrique Hernandez with the greatest at bat of the first half.  He worked a 13-pitch walk, which included 8 foul balls, to load the bases (the most pitches in a PA of the season at that point).  That was followed by Chase Utley walking in a run. Then Corey Seager came up:  
Last, but no way least, is:
June 30 vs Padres  Dodgers bats slam 3 HRs to make it a 53 home run month.  
Austin Barnes hit two (one was a grand slam) and Justin Turner hit one. 
Dodgers 53 HR count in June:
Bellinger 13
Turner, Puig, Joc 6 
Seager, Grandal 5
 Kiké 4
Taylor 3
Barnes, Utley 2
Thompson, Forsythe 1  
Wow! What a team! And what an exciting first half this has been. I think Part Two will be even better. 
What about your favorite moments?