I suppose you've all heard by now about Bryce Harper calling baseball – his very bread and butter – "tired". As the ESPN Magazine article that started it all, pointed out, Mr. Harper wants to become the Most Interesting Man in Baseball. He wants to be a big pimp daddy in a game that was once played on green meadows in the park, on Sundays.
The Los Angeles Dodgers have a wild horse who I'm pretty sure agrees with Harper and his views on ramping up the game with a bit of flash – Yasiel Puig. Whether you're a fan of players pimping their action on the field or not, you've got to admit Puig and Harper are among the game's most exciting players to watch. Part of that excitement is rooted in their on-field, spontaneous celebrations for plays well done.
I agree with Harper that players should pimp home runs or awesome put outs. It's a new century, and for all the pitching clocks and in-game hosts that baseball adds in feeble attempts to bring excitement to the game, they should just listen to their players – the ones who have always provided the excitement.
Look around and you'll see splashes of player pimping all around the leagues. Bat flips are becoming more common with every season. Plenty of fans (I suspect the demographic skews younger) love it. The most popular baseball card in 2016 Topps features a flip from Jose Bautista of the Toronto Blue Jays.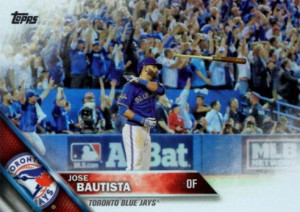 On the other hand, Harper wants to poo-poo the unwritten rules of "Pimp a homer, eat dirt the next time up". He wants to joyfully point at the pitcher, or the wall, or his bench after a big hit, but he doesn't want the pitcher coming back at him with a fastball in the buttocks.
I'm never for players getting thrown at, but the old-school pitchers who will drill you for pimping at the plate won't listen to me or Harper on that one. They're gonna do what they're gonna do.
Yasiel Puig has had an ongoing feud with the Giants' Madison Bumgarner, who is one of those guys who doesn't take too kindly to showy batters. Back in 2014 Puig bat-flipped after a home run he hit off of Bumgarner at Dodger Stadium, and it's been war ever since. Such is the danger of letting your pimp flag fly.
But I say, "Pimp on, Puig."
The game should evolve and the players should celebrate their accomplishments in the moment of triumph. Sure, there's a line between sharing the drama with the crowd and rubbing your opponent's face in it. I trust as pimping grows around the game, the players will sort out and define where that line lies.
Puig is having a pretty good spring so far. He's batting .375 with 3 hits and 3 RBIs. He hasn't found his home run groove yet, but I'm looking for him to get hotter as ST goes forward, and to have a breakout year. He's certainly due for one, and the signs are showing that it might be now. I'm looking for Yasiel to be the Dodgers' pimp of 2016.
Until baseball stepped in and said no, Puig was planning to buy a helicopter and fly into Chavez Ravine for games.  If that aint pimp, I don't know what the heck is.