The Boys in Blue took the rubber match against the "hated ones" last night to improve their lead to six games in the NL West and decrease their magic number to five.  The Dodgers tonight will begin a four game series against the Colorado Rockies.  Making his return to the mound tonight will be Brett Anderson.
Game time 710pm SNLA
The lasting image I have of Brett Anderson is when do dove for a ball and sprained his wrist in the process.  His record this season is 0-2 with an impressive 24.75 ERA.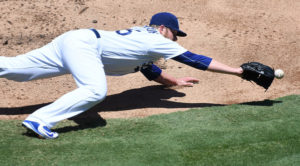 I'm not trying to make light of the subject because I really hope Anderson does well tonight.  Tyler Chatwood 11-9 4.13 ERA will be going for the Rockies.
Dodger lineup:
Utley 2B
Toles LF
Seager SS
Gonzalez 1B
Grandal C
Reddick RF
Pederson CF
Kendrick 3B
Anderson P
Anderson has been battling a blister issue since August 20th.  Anderson has yielded eleven runs in four innings this season.  In his career against Colorado, Anderson is 1-0 with a 4.43 ERA in four starts.
The Vin Scully farewell tour will continue this weekend.  The Dodgers are down to ten games left on the season.  These are the final four of the regular season.  The Dodgers then have three against the San Diego Padres and three against the Giants on the road.  The Dodgers most likely will start the NLDS against the Washington Nationals on the road to start the playoffs.
This is how the Dodgers lineup had fared against Chatwood.
It seems as though Adrian Gonzalez, Howie Kendrick, Yasmani Grandal, and Joc Pederson have had the most success against Chatwood.  Andrew Toles and Josh Reddick have never faced him.  Chatwood is 1-2 with a 4.00 ERA in three previous outings vs the Dodgers this season.  Chatwood usually attacks the strike-zone with a first pitch fastball.  He also has a curve and a change-up.  I'm thinking he will use those pitches to keep the Dodgers bats quiet.  The Dodgers crush fastballs.
This is the Rockies Lineup:
Blackmon CF
LeMahieu 2B
Arenado 3B
Gonzalez RF
Hundley C
Dahl LF
Parra 1B
Descalso SS
Chatwood P
Anderson's best pitch is his slider.  He also throws two-plane breaking ball he can paint on the corner versus right-handed batters and sweep away from lefties in the 79-81 mph range.  His lack of velocity can be attacked.  How have the Rockies fared against him.
As you can see Nolan Arenado, DJ LeMahieu, and Charlie Blackmon seem to know how to attack Anderson.  On the season the Dodgers are 8-7 against the Rockies.  So the Rockies play the Dodgers tough.  Come out for the final four home games of the regular season and Vin's final lap around Dodgers stadium this weekend.