After last night's dramatic come from behind, ninth inning win, I suspect more than a few Dodger fans would have appreciated a plain ol' fashion steamrolling, right from the get go. With 10-0 Alex Wood taking to the mound, that looked like a pretty good bet. 
The start of the game was almost quiet, as both teams remained scoreless early. Then the third inning came and rolled right over Dave Mattingly's fish. They never recovered. 
However, before we get to that, let's discuss what happened to make the earlier innings "almost" quiet. Of course, Yasiel Puig was involved. 
In the second inning, the Marlins threw inside to Yasiel Puig, and he did not take kindly to it.
Words were exchanged, benches emptied, and even old friend and ex-teammate, Dee Gordon got in the mix. He tried to come hard at Puig. Ha!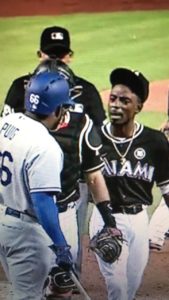 Now THAT would have been a steamrolling. 
Fast forward to the Dodgers' third inning. Because they're the Dodgers, they spotted the Marlins two outs, and then they opened the floodgates with two monster blasts (Cody Bellinger for 2 RBIs, Yasmani Grandal for 3) and five runs scored.
Then for good measure, Puig and Alex Wood made the Marlins' pitcher throw another 14-17 pitches before getting the final out. Dodgers 5-0. 
The boys didn't stop there. In the fourth they scored, once again with two out. Cody Bellinger doubled into the right field corner, and Justin Turner showed off some healthy steam to come around the horn and score from first. Dodgers 6-0. 
And the boys didn't stop there. All afternoon Cody Bellinger had slowly been compiling the parts of a very special baseball accomplishment – the cycle. It's a feat that only two Los Angeles Dodgers have done before. Cody needed only – ONLY!! – a triple to complete the cycle. 
Bellinger stepped to the plate in the seventh. On the first pitch he saw, he drilled a line drive into right field and he headed out to join Wes Parker and Orlando Hudson in the record books. After a sprint and a slide, Cody had a cycle in his pocket. 
Meanwhile, quietly steamrolling from the mound, Alex Wood was methodically sending Marlins back to their dugout just as fast as they were coming up. Wood ended the day after six shut out innings, four Ks, and only three hits. He picked up the majority of his outs today on ground balls. The broadcast team said Wood's out percentage on grounders this season is an incredible 68%. 
Pedro Baez came in, and he gave up the shutout. The skipper lifted Baez with two out, two on, and one in. Luis Avilan mopped up.  Brock Stewart finished the game with two scoreless innings, and the Dodgers added another victim – er, victory – to the pile. 
Dodgers Win! 7-1 
Oh yeah, this happened also: