The Dodger's streak of eight consecutive National League West division titles sadly came to an end this year with the Dodgers finishing one measly game behind the stupid Giants. It's unfortunate but the Dodgers still tied a franchise record with 106 wins. Despite winning 106, the Dodgers will have to play in the wild card game (for the first time ever) and their opponent is a familiar one; The St. Louis Cardinals
The Dodgers haven't faced those red birds in the postseason since the 2014 NLDS. If you remember (it seems ages ago) those Dodgers lost in Consecutive years to the Cardinals. Back in those days the Dodgers had guys like Yasiel Puig, Adrian Gonzalez, Hanley Ramirez and A.J. Ellis donning Blue. Those teams never had a chance.
The Dodgers have actually only beaten the Cardinals once in five previous playoff series meetings. I figured with the latest notch in the storybook of the Dodgers/Cardinals rivalry I would reach out to do a virtual interview with Cardinals blogger and member of the United Cardinals alliance of bloggers Daniel Shoptaw to get some inside insight on those Red Birds. He also asked me some questions about the Dodgers which will also be posted on his website C70 at the bat. Daniel has always been a friend and an inspiring baseball writer. It's been an honor talking baseball with him for almost a decade. We always participate in his annual playing pepper series. Check out his answers to our questions below.
The Cardinals go into the wild card game as one of the hottest clubs in baseball after rolling off 17 wins in a row. What was the key to the historic winning streak?
It's funny, Bally Sports sideline reporter Jim Hayes asked almost every player he could after the clincher a variation of this question.  I don't think there is any one thing.  It helped that the offense really clicked and that might have been the main thing, but I think it was just a coalescence of every facet finally working.  This was the team that we thought they could be and they finally fired on all cylinders.  A little luck helped, of course–you don't win 17 in a row all the time–but overall I think it was just everything finally coming together.
The Muncy injury was devastating for the Dodgers. Max Muncy has been the heart of the Dodgers lineup all season long. It doesn't hurt that the Dodgers can plug in a future hall of famer Albert Pujols. Do you think this gives the Dodgers an advantage since he probably knows what Adam Wainwright throws better than anyone?
Pujols went 0-3 against Wainwright in the series the two teams played in October and, as I'm sure you are well aware, has struggled mightily against right-handers this season (.180 BA, .500 OPS).  While he might be able to give a scouting report on Waino for the rest of the team (again, Wainwright went 8.1 innings and got the win in that series referenced earlier) it's not like Adam Wainwright is a mystery to anyone.  You have to look out for the curveball and the other breaking pitches and he'll locate everything well.  I don't think Pujols being on the other side gives an edge to the Dodgers, which is crazy to say about a legend.
What are the emotions of Cardinals fans seeing Pujols in a Dodger uniform let alone seeing him starting at first base in the Wild Card Game?
It would be weirder without his return to Busch in 2009 with the Angels and then in September with the Dodgers.  It's still not normal, of course, to see him in the blue, but it's not quite as off-putting as it would have been without those experiences.  There are going to be a number of Cardinals fans that, if things don't go their way Wednesday, will console themselves with the fact that Pujols continues to have a chance for another ring.  However, they aren't going to be as excited about a home run from him in the playoffs as they were in the regular season!
Adam Wainwright is ageless. He's like the Dick Clark of Baseball. He's had a resurgent season. How confident is the fan base behind the franchise icon? Would you go with someone else? Or is he the right choice on Wednesday?
There is no other choice.  If Jack Flaherty had been healthy all year and was at full strength now, then you would have a case for someone else, but right now there is no other pitcher you want in this game than Adam Wainwright.  Sure, Jon Lester has playoff experience but he's not what he used to be.  He's had a nice run with the Cardinals and if the Cards advance he'll go in Game 1 of the NLDS, but you don't put all your chips on him if you don't have to.  Miles Mikolas, J.A. Happ, and others can get the job done, but they aren't the ones you'd pick either.  The biggest reason, besides the coin flip nature of the game, that Cardinal fans have a belief in winning this game is because Uncle Charlie is taking the ball.
Who is the Cardinal's hottest hitter right now?
Tyler O'Neill was player of the month for September, so you'd probably go with him.  The whole offense really clicked over the last six weeks (O'Neill, Tommy Edman, and Harrison Bader each won Player of the Week over that stretch) but TON is something.  From the beginning of the winning streak until the end of the year, he hit .337/.378/.735 with nine home runs.  His talent may have been best showcased in the last win of the season for St. Louis.  He hit a home run in the first, a home run in the fourth, doubled and scored to tie the game in the sixth, then threw out a runner at home in the ninth to keep the game tied.  Add to that his blazing speed and you can see why the Cardinals waited and waited on him.
What went right for the Cardinals this season? Any predictions for Wednesday's Wild Card match up?
The Cardinals aren't here if John Mozeliak didn't have an eye for discarded talent.  He picked up Wade LeBlanc, who helped shore up a crumbling rotation.  He nabbed Luis Garcia and T.J. McFarland who went from the waiver wire to key cogs in high leverage situations.  He traded for Lester and Happ at the deadline and fans thought he'd lost his mind, but those guys provided stability and allowed Johan Oviedo to finally go to Memphis for an extended stay to develop.  Mozeliak didn't panic when the team was scuffling and made low-key but important movies that, collectively, did more than one big splashy move would have.
Point blank question: yes or no…do the Cardinals beat the Dodgers on Wednesday?
I never like making predictions because I really know nothing, even after writing a blog for over 14 years now.  One game could go either way.  I'm perfectly prepared for Max Scherzer to be Max Scherzer, the Dodgers pen to finish things up, and to start planning my offseason writing.  However, two things keep nagging at me.  One, in 2006 I looked at the path the Cardinals had and I felt like it lined up really well for them to make it to the World Series.  I have the same feeling this year, especially if they get past the Dodgers.  They would do much better to face LA in this game rather than a best-of-five given the depth of the Dodger rotation.  They've had good success against the Giants this year, giving them 7% of their losses (four of 55).  Then they get a Brewers team that they played well against in August and September or a Braves team that is tough but should be beatable.
The other thing, of course, is 2011.  We don't usually see things like that twice in our lifetimes, much less twice in a decade, but this team has a similar vibe.  A team that tore through September, coming from basically dead to a playoff spot (with a little help from collapsing teams).  There's a tweet out this morning that the 2011 team went 45-36 in home games and 45-36 in road games.  The 2021 team?  Exactly the same.  History doesn't repeat, but sometimes it rhymes.  Obviously, as a Cardinals fan, I'm going to say that St. Louis wins on Wednesday.  We'll have to see if it's the beginning of a beautiful October.
It's always great talking Baseball with Daniel. You can check out his website with our answers to his questions over here. There are far too many enemies trying to take the World Series trophy away from the Dodgers this year. The Red Sox, Yankees, Cheaters, Stupid Giants and Cardinals are all aiming to snag the title away from Chavez Ravine where it rightfully belongs. Can the Dodgers save Baseball this fall? We'll find out on Wednesday at 5:10 PM PST at Dodger Stadium.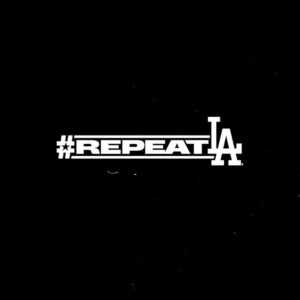 Just Repeat baby