Derrel Thomas experienced the heights of what baseball can offer as a number one draft pick, and reached the pinnacle when his Dodgers won the 1981 World Series. After his baseball career Thomas seemingly lost everything when he was implicated in a drug sting. I briefly met Thomas yesterday, and I'm happy to say, he has come full circle to once again represent the Dodgers with class and his warm smile.
Derrel Thomas' MLB career spanned from 1971 to 1985, during which he played for seven teams, and held down every position on the field, with the exception of pitching. He was a Dodger from 1979 to 1983 – it was his longest stint with any team. Here's a great story about Thomas' run of 31 innings as the Dodgers' catcher in 1980.
The switch-hitting Thomas wasn't a superstar, but his career was charmed enough to bring the local boy back home to Los Angeles just in time for the rise of Fernando Valenzuela, Tommy Lasorda, and a World Series championship. In the World Series, Thomas had seven at bats, with 1 RBI and 2 runs scored. Imagine that – knocking in a run and scoring twice, in a World Series!
Following his career, Thomas made an attempt to remain in baseball as a high school coach at his two alma maters. Controversy over his methods caused him to resign from one, and an arrest led to his losing the other coaching position. In 1993 he was involved in a drug sting. His life seemed on a downward spiral.
Those down times didn't stop Thomas, who persevered and kept his baseball dreams alive. He recovered from those setbacks and coached in the Reds organization and managed in the minor leagues. He even ran free baseball clinics for underprivileged youth. Thomas now coaches the Rancho Belago Rockets (in California's Riverside County), along with fellow former major leaguer, James Lofton.
Which brings us to my up close encounter with the baseball phoenix. The Dodgers were running a holiday sale at their Top of the Park giftshop, and in addition, they were offering Dodgers autographs and the opportunity to see the 1981 World Series trophy. I jumped at the chance, and Derrel Thomas was the featured Dodger signing autos when I arrived.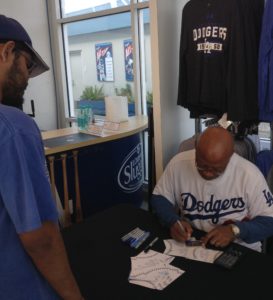 Thomas was cheerful and readily beamed his trademark smile. He spoke freely and took his time with my son and I. The internet is full of stories of former athletes who seem they would rather be anywhere than right there, with you. I'm happy to say I've never encountered that from any Dodger, and Derrel Thomas kept that streak alive with his generous signing and sincere warmth as we briefly chatted and snapped photos with him.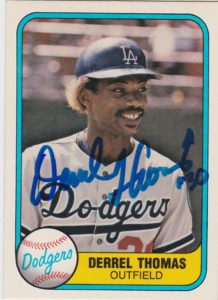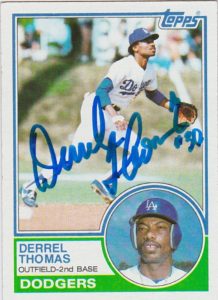 Wearing his Dodgers number 30 (an homage to his baseball hero, Maury Wills), Thomas looked in shape and ready to take the field at any time.
My other thrill was seeing the 1981 World Series championship trophy up close, without a bit of glass between us.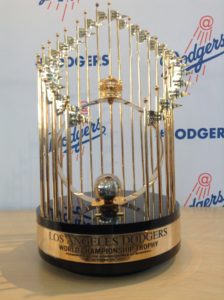 I also stepped out to have a look at the field, and was pleasantly surprised to see several youth teams out and practicing.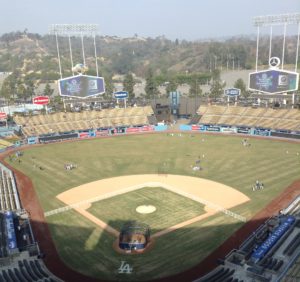 Dodgers youth Gavin Lux, Alex Verdugo, Walker Buehler, Willie Calhoun and others were out there giving the kids tips. What a thrill to be a kid practicing on Dodger Stadium grass and being coached by real Dodgers!
It was a great day out at the stadium and truly my pleasure to meet Derrel Thomas.
If you'd like to see a few more photos from my trip to Dodger Stadium yesterday, check out today's post on my blog, All Trade Bait, All The Time.