Perhaps that's going a little far, after this Cuban second baseman is rated much higher than Guerrero was. Still the similarities are there. Jesse Sanchez is reporting that the Dodgers are nearing agreement with Cuban second baseman Jose Miguel Fernandez. The 28-year old infielder officially left Cuba in 2015 and was granted free agent status. The Dodgers signing unknown Cubans is nothing new to any of us. The Dodgers have spent ungodly amounts of cash on unproven Cubans that never even sniffed the majors. A few did appear in the majors, like Alexander Guerrero, and Erisbel Arruebarrena for example, but those were the only Cubans that ever got to the Major league level in Dodger blue. None of them had any success like Yasiel Puig has had.
Sources: Veteran Cuban INF Jose Miguel Fernandez nearing a Minor League deal with the #Dodgers. He defected from Cuba in December of 2015.

— Jesse Sanchez (@JesseSanchezMLB) January 8, 2017
This particular Cuban player seems to be somewhat familiar. Perhaps we can compare him to Alexander Guerrero? Fernandez like Guerrero has been ranked as a strong hitter with good contact skills. Although Guerrero never had good plate discipline, and Fernandez appears to be more of a contact hitter. Like Guerrero, his fielding and base running appear to be below average. According to Baseball America's Ben Badler he ranked as the third best Cuban prospect on the market.
Fernandez batted .319/.403/.423 with Cuba's Serie Nacional league. He collected 263 walks and struck out just 123 times, suggesting the scouts are right about his great plate discipline. Fernandez hit 37 home runs in his 8 seasons in Cuba, and finished with an .826 OPS.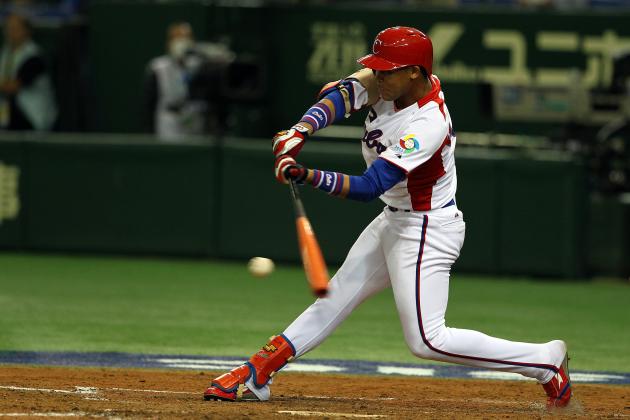 Like Guerrero and other Cubans, he hasn't played in over two years because of a failed attempt at defecting. Sound familiar? Guerrero hadn't played in over a year when the Dodgers first signed him as well and had to start his career in the minor leagues. It appears this is where Fernandez would start provided he does sign with the Dodgers.
It's hard to tell if any of these Cubans are major league caliber or not. Many of the Cuban players are multi-talented, but some never seem to pan out. Sometimes they've been off the field too long because they were unable to cross the border into the United States.
Fernandez had gotten the rave reviews from scouts, so perhaps he could become an option to play second base the way Guerrero did for the Dodgers in 2015. The Dodgers signed Guerrero to a 25 million dollar contract. Fernandez is exempt from the international bonus pool limitations because of his age. The Dodgers have nobody to play second base after trading Howie Kendrick to the Phillies earlier this winter, and the rest of the in-house options like Kike Hernandez, Chris Taylor, and Micah Johnson all stink.