It took me long enough, but I finally made it out to Blue Heaven on Earth, and caught a ball game. It's been a couple of hand-wringing weeks – or a few early season games with nothing to worry about – depending on how you see a record of 3-6 ball.  Which Dodgers team would show up this night?
The Dodgers were playing the Oakland A's, who I heard were fresh off manhandling the Angels, but the Dodgers had just split a series with the Hated Ones, and held on for a tough win in the final game, so  it looked to be a good match up. In addition, the Dodgers were handing out trading cards to fans. Plenty of good reason to get out to Chavez Ravine.
We rode the Metro into Union Station and hopped aboard the Dodger Stadium Express for the ride up…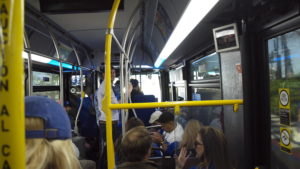 Here's the view looking back at the city from the stadium entrance. It was a beautiful day…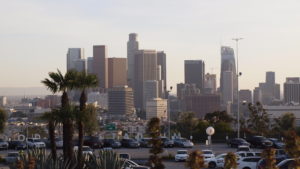 Corey Seager was awarded his (second) Silver Slugger Award before the game.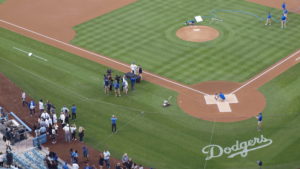 It was clear I brought some heavy mojo with me because Hyun-Jin Ryu and the Dodgers were on fire right out of the gate. Ryu surrendered a walk early, but he was a blue buzzsaw otherwise, pitching a no-hitter through five, and a one-hitter through six.
Although our seats were Top Deck – high up and considered cheap seats – the view was magnificent. The game action was all before us, and from our vantage point, you could see the pitches cross the plate.  Note Ryu's pitched ball just about to hum in for a strike on the corner.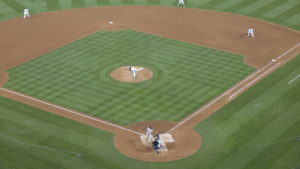 I hadn't sat in this section for years, at least ten, probably more. As I said, the view was great, but I've got one grumble: the food selections up here are slim, slim, slim. You have the basic hot dogs and a couple of dog variations, nachos, garlic fries, ice cream and snacks – and that's about it.
Sure, a dog and a drink should be enough for a trip to the ballpark, but for a guy who's been spoiled by choices of pizza, sandwiches, food riffing off the visiting team's cuisine, and so on, the food experience in the Top Deck is an absolute disappointment.
Speaking of disappointments, I got to see Joc Pederson struggling through at bats last night, and it's even worse in the flesh. Someone please tell me that Andrew Toles will be here to relieve us all soon. Pederson's late-inning at bat seemed to go on forever, only to end in a strike out took the air out of the stadium. We were all tired by the end of it.
Then there was Ross Stripling. He pitched the eighth, but allowed a couple of base runners, and suddenly a 4-0 coast to victory felt like Mr. Mahem had just walked into the building. Stripling got out of it, and manager Dave Roberts gave him another chance in the ninth. Could Chicken Strip maintain control and save Kenley for another night?
He got the first out and then gave up back to back singles. The game was in jeopardy again. Strip out, Kenley in.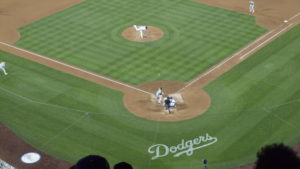 It was a pleasure to see the gates open and feel the thrill of Jansen jogging in to the opening notes of "California Love".  the sparse remaining crowd sounded like it was 5 times larger. Kenley quickly shut down the A's, and Randy Newman filled our ears with "I Love LA". It felt good to be back in the swing of things.