Here's a look at the Dodger's 60-game schedule for the 2020 season. The club will play it's first of three exhibition games tomorrow night against Arizona. They'll play two exhibition games against Arizona tomorrow night and Sunday evening at Dodgers Stadium before playing one game against the Angels on Tuesday. Wednesday is an off-day before the boys in blue open the shortened campaign with a four-game series against the Giants starting on Thursday night (7:08PM) at Dodger Stadium.
Los Angeles Dodgers 2020 60 Game Schedule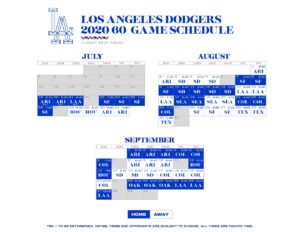 Their first road trip will begin on Tuesday July 28 with a four-game set in, you guessed it Houston at Minute Maid Park. That should be fun. The Dodgers will have road trips to Arizona, San Diego, Colorado, San Francisco, Seattle, Texas, and of course Anaheim when they play the Angels. They have 40 games against their division rivals, (10 versus each team), and 20 interleague games against the American League West. The season ends with a three-game series against the Angels at Dodger Stadium between September 25-27. The trade deadline has been rescheduled to August 31. Check out the rest of the schedule and download it if you need too.