There is no question that Dodger's first baseman/outfielder and reigning National League rookie of the year Cody Bellinger is struggling. Coming into today the second year slugger is in the worst slump of his professional career. Bellinger is batting just .180 (.180/.265/.390) in the month of May with five home runs and thirteen runs batted in. He's hitting just .200 with a .693 OPS against left handers. Overall Bellinger is slashing .225/.298/.413 with 8 home runs and 25 runs batted in over 238 plate appearances. He's walked 22 times while striking out in 59 trips to the plate.
There's a good article in the LA Times from Houston Mitchell about Bellinger's problems at the plate. It's hard to know exactly what the problem is. The Dodgers coaching staff has claimed that Bellinger has some mechanical issues with his swing path. He does seem a bit stiff in the batter's box and his swing is long and covers a lot of the strike zone, but there's not much flexibility there. Often times we've seen him fall to one knee when finishing his swing and it can look as if he's swinging out of his shoes.
According to the numbers (from the Mitchell article) Bellinger's swinging strike rate has increased while his contact rate on pitches within the strike zone has dipped as well. In response the Dodgers have moved him into center field as Max Muncy has taken over the everyday first base duties. According to Mitchell Bellinger hits better when he's at first base. This doesn't surprise me either. It would make sense that Bellinger would be more comfortable at his natural position of first base.
Could the National League be pitching Bellinger differently this season, compared to last season? That could be part of it. If you take a look at this heat map we see that Bellinger is getting more inside pitches this year than he did last year. Perhaps Bellinger is just not making the necessary adjustments. Baseball is all about making adjustments and young players can have issues doing that.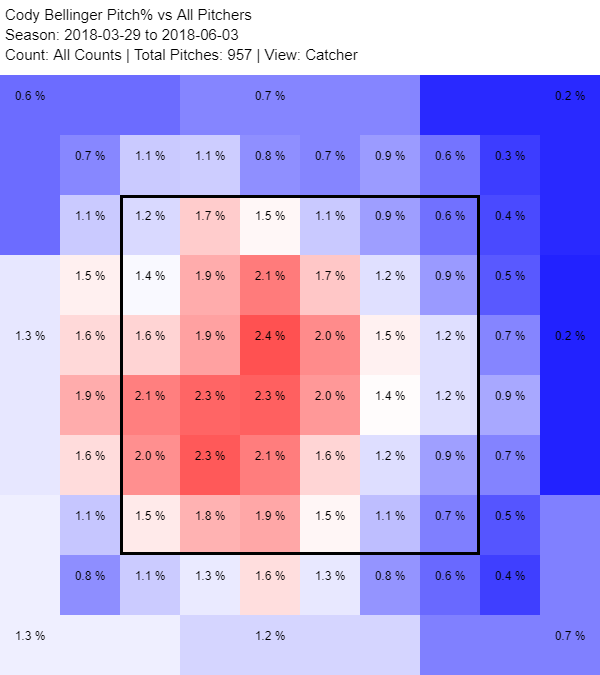 It's hard to say what the solution is here. Oscar has openly called for him to be sent back to the minors. I'm not so sure that that's a fix. There's a big difference between Major League pitching and Pacific Coast League pitching. It may allow Bellinger to work on some stuff mechanically in a low pressure environment. However I think it would overall be detrimental and counter-productive for him . He's already frustrated and sending him down may only further frustrate him.
Mitchell calls for him to be moved lower in the lineup. I concur with this. That might take some of the pressure off of him and let him get his swing back while also letting him relax a bit. If the Dodgers do move Bellinger back to first base, they can move Muncy over to second (as Mitchell suggested) and Joc Pederson can play center field. If they want to keep Muncy's bat in the lineup and considering his good production they will.
Again there are no easy answers here. The sophomore slump is a thing. Bellinger has been unable to adjust in 2018. I think the best action to take right now is to let him try and play through it. Dave Roberts gave him consecutive off-days during the Denver series. Today Bellinger is back in the lineup at his familiar first base position and batting seventh as the Dodgers open a three game series against the Pirates at PNC Park. Is Bellinger a bust? I think the kid is far too talented be a bust, but we'll find out over the next few weeks if Bellinger can find his swing again. Patience Dodger fans, patience.