The Los Angeles Dodgers have a long tradition of changing the game of baseball – from Jackie Robinson tearing down the biggest wall of all, to Maury Wills creating the stolen base specialist, a new offensive weapon to be feared.
As much as I love to ride the Dodgers' brain trust and ownership over bullpens and television deals, I have to keep things real, and give credit where credit is due. The Dodgers had a huge decision to make when it came time to choose Don Mattingly's successor. Fortunately for all involved, in this case, they chose extremely well.
They added to the Dodgers' legacy of breaking color barriers by hiring Dave Roberts, the first minority skipper in Los Angeles.  He was the sentimental choice for a lot of us. Many only knew him from his performance on the diamond, but we also knew Roberts possessed a winner's heart.
Dave Roberts has taken a hearty grab of the Dodger Blue reigns, and with smart instincts, he has reinvented the club as his own. Just before Spring training broke, Roberts chose Andre Ethier, a regular in Mattingly's doghouse and trade rumors, to be the Dodgers' new lead off batter. Unfortunately, his brilliant experiment was put on hold when Ethier's leg was broken in a ST game – but it foreshadowed the savvy of a skipper who recognizes players who can get the job done.
Roberts showed the craftiness of a World Series manager during last night's game when he resurrected a new baseball professional – the Two-inning Saver. They say necessity is the mother of invention, and boy, did Roberts have the necessity of inventing some way to win a game other than how Dodgers' G.M., Farhan Zaidi, had carefully planned it out.
What's that adage about insanity? When Dodgers' starter Alex Wood left last night's game with a 3-1 lead in the 7th inning, Roberts did what 100% of managers do. He went to the bullpen. The same bullpen he has seen repeatedly blow up completely winnable games.
He brought in Pedro Baez who promptly placed the tying runs aboard the bases. This was the moment Roberts changed baseball. He was not going to repeat the same thing and expect different results. He bypassed the rest of the Dodgers' atrocious bullpen, and went straight to the big man himself, Kenley Jansen, who promptly disposed of the snakes for the two-inning save.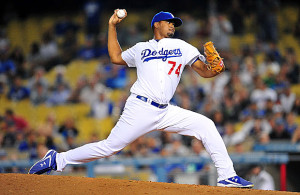 With the Dodgers' bullpen constructed of highly questionable materials, Roberts has wisely decided to not toss away any more wins via the ineffective tools Zaidi handed him. He is going to fashion Kenley Jansen into a new defensive weapon: a pitcher who can regularly throw two quality innings to close the game. Roberts didn't invent using the saver for more than the ninth inning, but that move is generally thought of as a last resort, and not to be done often, lest you blow out the pitcher's arm or prematurely wear it out.
Roberts is going to take this sometimes frowned-upon move two steps further and regularly use his closer in such a role. Why not? The present bullpen arms aren't getting it done, and chances are pretty good if anyone can become a two-inning saver, it's Jansen. Used efficiently, his firepower should easily earn two-inning saves on back-to-back nights. Mark those words.
If Roberts and Jansen can pull it off, Jansen will have greatly increased his bargaining power at the end of the season, and the skipper will have birthed another Dodgers innovation for the game.