Last nights come from behind 2-1 victory over the San Francisco Giants had a lot of fireworks.  It was Clayton Kershaw vs.  Madison Bumgarner.  It was Yasiel Puig vs. Bumgarner.  Ultimately it was Adrian Gonzalez clutch hit in the ninth inning to secure the victory.  The Dodgers now have a six game lead in the NL West and their magic number to clinch is seven.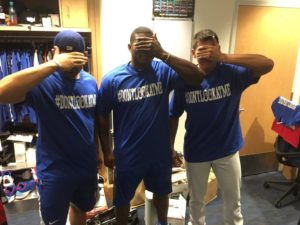 The Dodgers still have five games remaining with the Giants.  The game last night was playoff baseball.  Tonight's match-up will try to live up to that excitement with Rich Hill 12-4 with a 2.06 ERA going against Johnny Cueto 16-5 2.86 ERA.  Game time 710pm SNLA ESPN2.
Dodgers Lineup:9/20
Utley 2B
Seager SS
Turner 3B
Gonzalez 1B
Grandal C
Reddick RF
Toles LF
Pederson CF
Hill P
Giants Lineup:
Nunez 3b
Hernandez cf
Posey c
Pence rf
Williamson lf
Crawford ss
Belt 1b
Adrianza 2b
Cueto p
Rich Hill is coming off a tough start against the Diamondbacks where he went 5.1 IP giving up four hits and four runs.  He also walked one and struck out eight.  It was his first loss with the Dodgers.  Hill is 3-1 with a 2.70 ERA in six career starts against the Giants, limiting them to a .219 batting average.  Hill pitched against the Giants on August 24th and went six innings giving up only five hits.  Hunter Pence had two hits that day.
How have the Dodgers fared against Cueto you ask?
Cueto last pitched against the Dodgers on August 24th going six innings giving up one run on four hits.  In his career vs. the Dodgers.  In twenty eight innings against the Dodgers he has given up 20 hits and 10 runs.  Adrian Gonzalez, Chase Utley, and Justin Turner have hit him well in their careers.  The Dodger added pitcher Alex Wood to the roster and DFA'd Bud Norris.  Alex wood will help bolster the bullpen.
The Dodgers gave the Giants a devastating loss last night.  Rich Hill can come out tonight and add to the Giants miseries.  The whole goal is to make the final three in San Francisco not mean anything other then knocking the Giants out of the wild card.  The Dodgers are only three games behind the Washington Nationals for home field in the NLDS.  The Dodgers have played so much better at home.  That could be vital in reaching the NLCS.