The Dodgers' offense has been sluggish lately, and that's putting it nicely. They've put up very few runs, and then asked their pitchers to allow even fewer. That formula hasn't been working, as their starting pitchers have been everyone not named Kershaw. Today that changed.
In an afternoon game that yours truly attended, the boys were once again anemic on offense, but they had the one pitcher on the staff that could be tasked with being just as selfish with giving up runs as they were at giving them for support.
Clayton Kershaw pitched a strong seven innings, striking out nine and only giving up three hits. Unfortunately, one of those was a second inning home run to Ryan Zimmerman.
The Dodgers made it look like they were going to waste Kershaw's outing. As he settled in and got tougher, the Dodgers' bats flailed and puttered against Washington starter Stephen Strasburg. Then, with two out in the sixth, last year's ROY, Corey Seager got a hold of one and blasted a line drive to center field that sounded and looked like it was gone right off the bat. The crowd erupted, and the game was tied at one run apiece.
And then, the impossible happened.
Adrian Gonzalez struck out swinging. It should have been the third out of the inning, but it got past the Nats' catcher and Gonzalez was off to the races. He streaked to first base and was safe. The folks in the seats behind me remarked, "Look at him run. Is he the catcher?"
Before I could inform them he wasn't our catcher, he's our File Cabinet, Strasburg uncorked a wild  pitch against Yasmani Grandal and the Cabinet streaked to second base. It was an amazing thing to behold.
The Dodgers weren't done with their antics. Grandal doubled to center field and the File Cabinet scored from second base, to give the Dodgers a 2-1 lead they never relinquished. Although, they almost did.
Pedro Baez took over for Kershaw in the eighth, and he quickly gave up a triple to Trea Turner. One batter later Bryce Harper hit one back at Baez and Turner tried to score from third. Turner was caught in a pickle, and tagged out at third for the second out of the inning.
The skipper went to Kenley Jansen for the four out save, and Jansen came through to erase Ryan Zimmerman on a comebacker to end the eighth.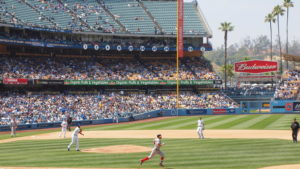 Jansen gave up a single in the ninth, but made quick work of the next three batters to end the threat, shut down the Nationals, and help the Dodgers avoid a three-game sweep.
Life in L.A. was good again.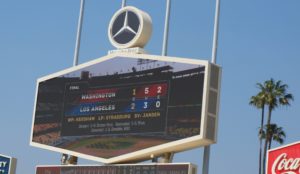 Clayton Kershaw went 7 innings with 3 hits, 1 run, 1 HR, 1 walk and 9Ks.  ERA 2.20