The Dodgers were able to salvage one game out of the three on Wednesday during the series finale of the three game NLDS rematch showdown against the Nationals thanks to Clayton Kershaw, Corey Seager, a passed ball from Washington catcher Jose Lobaton and some timely hitting from Yasmani Grandal.
Now the Cincinnati Reds will come into town for a weekend series. The Dodgers enter the series with a 36-35 record. They are currently in third place in the NL West 2.5 games behind the Rockies. Meanwhile the Reds are 29-30 and also in third place in the NL Central, two games behind the Brewers.
The Reds come in with a four game winning streak and have split their last ten games. They have a 10-15 record on the road. The Dodgers are 22-10 at Dodger Stadium and have also split their last ten games as well. The Dodgers have a .254/.334/.437 slash line at home with 42 home runs and 165 runs scored. The Dodgers are averaging 5.15 runs per game at home. The Reds are one of the better hitting road clubs in baseball. They are slashing .257/.321/.442 with 37 home runs on the road. The Reds have scored 112 runs away from Great American Ballpark which means they average about 4.48 runs per road contest.
Pitching match-ups
Game 1-
In the opening game the Reds will send 25-year old youngster Ari Garrett to the mound as the Dodgers will counter with left hander Rich Hill. This is Garrett's first MLB season after he posted a 1.75 ERA in 77 innings pitched at double-A Pensacola. Garrett is more of a fly ball pitcher but his four-seamer has more of a sinking movement. He also throws a slider and change. His four-seamer tops out at about 92 MPH.
This is his tenth start but he's been pretty horrendous this year. He has a 3-4 record with a 7.17 ERA in 47.2 innings pitched. He's struck out 36 and walked 22 while allowing 48 hits. He's roughly giving up about one hit per inning. He's had major problems with the long ball since according to the numbers he is a fly ball pitcher. He's served up an eye-popping 15 home runs in his nine starts. Garrett hails from Victorville, California and was drafted by the Reds in the 22 round of the 2011 draft.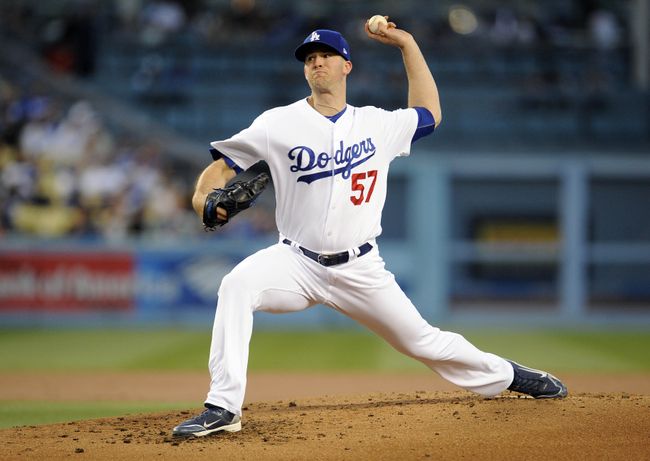 Rich Hill has yet to pitch past the fifth inning this season and this is his seventh start of the season. He's actually been pretty bad as he once again struggles with blisters. In his last outing he lasted just four innings against the Brewers and allowed three runs on three hits and struck out five against four walks. Command has been a big issue for Hill as he has allowed 18 free passes in his 26 innings of work. Overall he has a 2-2 record and a 4.15 ERA. Hill has made seven career starts against the Reds and is 3-2 with a 4.05 ERA. He's struck out 46 Reds in 40 frames. Most of the current Reds have yet to see Hill. Here are his numbers against the Reds.
Hill vs. Reds
| | | | | | | | | | | | | |
| --- | --- | --- | --- | --- | --- | --- | --- | --- | --- | --- | --- | --- |
| Name | PA | AB | H | 2B | 3B | HR | RBI | BB | SO | BA | OBP | OPS |
| Bronson Arroyo | 6 | 5 | 1 | 0 | 0 | 0 | 0 | 0 | 3 | .200 | .200 | .400 |
| Joey Votto | 2 | 2 | 0 | 0 | 0 | 0 | 0 | 0 | 0 | .000 | .000 | .000 |
| Total | 8 | 7 | 1 | 0 | 0 | 0 | 0 | 0 | 3 | .143 | .143 | .286 |
Game 2
In the second game, Alex Wood is scheduled to return from the disabled list as the Reds will counter with right hander Asher Wojciechowski. I have no idea how to spell or pronounce the 28-year old's name but this is the first time we've seen him. Wojciechowski was originally drafted by the Blue Jays in the first round of the 2010 amateur draft. Wojciechowski was one of the players involved in the swap that sent Francisco Cordero , Ben Francisco, and Carlos Perez to the Astros for David Carpenter, J.A. Happ, and Brandon Lyon back in July of 2012. The Reds signed the South Carolina native in April of 2017.
Before the 2017 season Wojciechowski has made just three major league starts and five career appearances. This season he's made two starts and appeared in four games. Wojciechowski has posted a 1-0 record and a 4.50 ERA in 14 innings pitched. He's struck out 12 and walked three but given up 15 hits. He has a career 5.93 ERA in 30.1 MLB innings pitched.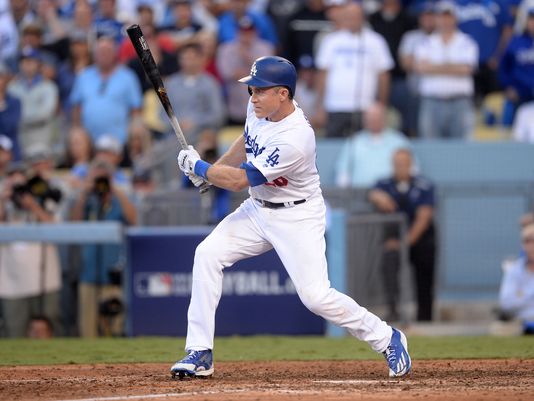 Wojciechowski primarily throws a four-seam fastball, a sweeping slider, and a changeup. Much like Amir Garrett he appears to be more of a fly ball pitcher. His fastball tops out at about 93 MPH. The Dodgers have never faced him before and Wojciechowski has never faced the Dodgers.
Wood is returning from Sc joint inflammation in his left shoulder and looks to continue where he left off after he was named the NL pitcher of the month in May. Wood was dominating in May as he posted a 5-0 record with a 1.27 ERA in 5 starts. He struck out 41 and walked only 7 while holding opponents to a .214 batting average against. He was pretty good in April as well, limiting batters to a .153 average against.
Overall Wood is 6-0 with a 1.69 ERA in 48 innings tossed. He's struck out 60 and walked 15 while posting a 6.2 hits per nine rate. Wood has struck out 11.3 per nine and posted a 1.89 FIP. He's allowed just nine earned runs all season. Wood has pitched well against the Reds. In 3 appearances and 2 career starts he's posted a 2-0 record and a 2.30 ERA. The current group of Reds is hitting just .250 (5 for 20) against Wood. Here's how the rest of the Reds have done against Wood.
Wood vs. Reds
Game 3
Both clubs have yet to announce a starting pitcher for the series finale on Sunday afternoon.
Injury updates-
The Reds have five pitchers on the disabled list. Homer Bailey slated to return at the end of the month as he recovers from February right elbow surgery. Brandon Finnegan is also scheduled to return this month as well as he battles a teres major strain. Bailey and Finnegan are going to be sent out on a double-A rehab assignment this weekend.
The Dodgers not only will have Wood coming back but also Justin Turner. Center fielder Joc Pederson is due to begin a rehab assignment this weekend too. He's still showing symptoms of a concussion after his brutal collision with Yasiel Puig in the outfield. He's been out since May 25. Right hander Brock Stewart has been throwing in Class-A and could be back this month as well.
Scooter Gennett's four home run game
In case you haven't heard, Scooter Gennett became just the seventeenth player in MLB history to his four home runs in a game. He slugged his four on Tuesday in the Red's 13-1 win over the Cardinals. Gennett had five this in the game, going 5 for 5 with 4 HRs and 10 runs batted in. One was a grand slam home run. It was a pretty incredible performance, and I am glad it did not happen against the Dodgers. Check out all four of his dongs.
Former Dodgers
The Reds have two former Dodgers who have been doing quite well. Infielder Jose Peraza is batting .248 with 14 stolen bases and 17 runs batted in. Peraza has 53 hits in 224 plate appearances. Big strong outfielder Scott Schebler is batting .253 and currently leads the National League with 17 home runs. He's driven in 31 runs and posted an .889 OPS in 54 games.
Players to watch:
Shortstop Zack Cozart is batting .347 this season with a .430 OBP in 196 at-bats. Cozart has 9 home runs and 33 runs batted in.
Joey Votto has a career .335 average against the Dodgers and is batting .298 at Dodger Stadium in 100 career plate appearances. Justin Turner is hitting .275 against the Reds in 31 career games.