The Dodgers held their annual open house for the media today, and your intrepid blogging duo, Scott and myself, were invited to partake. This was Scott's fifth open house and my second. I'm starting to get the feeling that no matter how many of these you attend, the excitement doesn't diminish one bit.
Just driving into Blue Heaven on Earth for the first time of the year holds its own magic, and I'll be honest, the knowledge there's plenty of yummy food waiting for us to taste holds its own charm. The Dodgers were having us over to introduce the stadium's special event games, bobblehead nights, and to taste the new concoctions that Executive Chef Ryan Evans will be bringing to the stadium food stands over the summer, and we were were very happy to be there.
Enough introduction. Let's get to the photos – and there are plenty of those.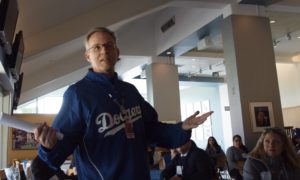 The Dodgers' Team Historian, Mark Langill, welcomed us into the Stadium Club and got the day started. Soon enough, we were headed on down through the bowels of Dodger Stadium. Destination: Field level and the visitor's dugout.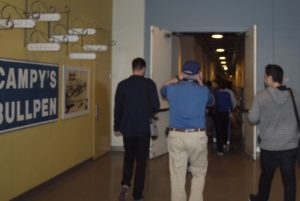 The hallways of the stadium are drenched in history. Here's Scott getting a photo of the Gold Gloves won by Dodgers through the decades.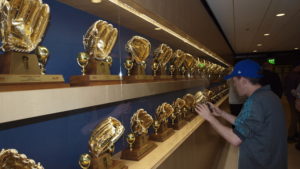 Our first 2018 view of the field. No matter the grounds crew was in the shot, what a magnificent sight.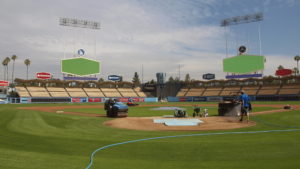 The visitor's dugout was full of the upcoming season's goodies, such as the bobbleheads commemorating Kirk Gibson's legendary World Series home run and Cody Bellinger's Rookie of the Year Award.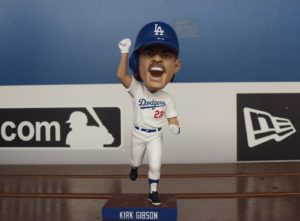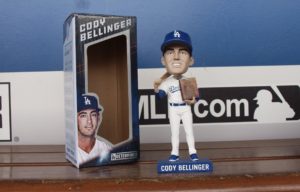 Here's an assortment of special event t-shirts and caps, and one of my favorites, a jersey replica for Jackie Robinson Night.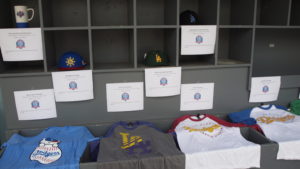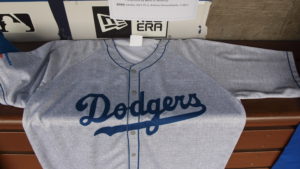 Before we headed back up, Scott reminded me to touch the infield grass. He was right! It felt awesome – soft and cushy.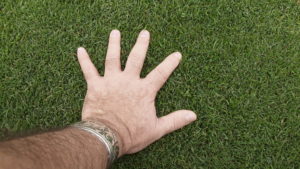 Finally, it was time to head back upstairs for lunch! (Did I mention the halls are drenched in history?)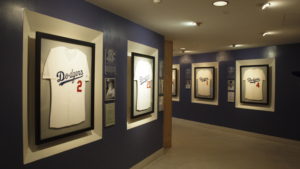 Meanwhile, the Stadium Club was drenched in delicious food for us to taste.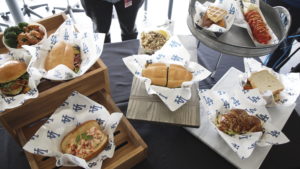 Among my favorite things today were the pretzel chicken croissant (chicken with sundried tomato, herb aioli, swiss cheese and lettuce),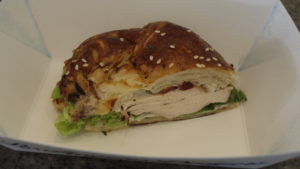 The carne asada torta (with refried beans, jalapenos, cilantro, crema, pickled onions on the softest, perfect bread)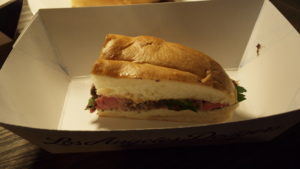 …and the King's Hawaiin lobster roll, which was so delicious, it was all gone before I could snap a photo! Trust me, it's that good.
What else was good was spending the day at our favorite place, Dodger Stadium, surrounded by good friends and good food.
Thanks for everything, Dodgers!