Good morning faithful LADR readers,
Today's pregame is brought to you by Oscar. Hope you enjoy the Sunday change of pace.
The Arizona Diamondbacks won four games in a row, including the first of the four-game, extended series against the Dodgers. The boys in blue stopped the Snakes streak, winning two in a row, and send young Jose De Leon to the mound this afternoon, seeking to extend their win streak to three, and drop their magic number into single digits.
Yesterday young Brock Stewart, young Joc Pederson, young Andrew Toles, and young-at-heart Chase Utley combined to snuff out the Snakes and set the blue magic number at ten. Today is a new day – beckoning for new heroes to emerge.
Jose De Leon will square off against the Snake's southpaw Robbie Ray. First pitch is 1:10 p.m. PST. TV (HA!) – SNLA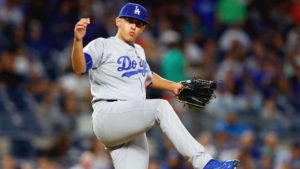 De Leon is 2-0 with an ERA of 4.09 and a 0.91 WHIP. His last time out was in New York at Yankee Stadium. He went 5 innings and gave up 2 solo home runs. He won that day because he had plenty of run support (8-2).  This will be his first start against the D-backs.
Who will step up today to keep those Dodgers support runs coming? This is a critical question, especially since Arizona is using a lefty, and that probably means manager Dave Roberts will cripple his team's chances with a sub-par lineup.
Robbie Ray is 8-13 with an ERA of 4.55 and a 1.43 WHIP.  Howie Kendrick and Yasiel Puig have both homered off Ray.
Puig has the most hits (5) off Ray than any other Dodger. As matter of fact, Puig OWNS Ray. He crushes all the other Dodgers' stats vs Ray with a line of .455/.533/.727 and an insane 1.261 OPS.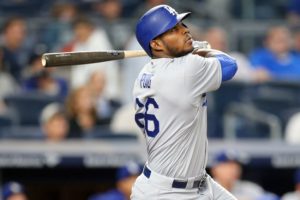 Kike Enrique Hernandez also hits Ray well. .300/.417/.600  1.017 OPS.
Here are the lineups:
The visiting Arizona Diamondbacks (BOOOOOOOOO!!!!) 
Segura 2B
Owings SS
Goldschmidt 1B
Lamb 3B
Drury LF
Haniger CF
Brito RF
Gosewisch C
Ray P
Your Los Angeles Dodgers lineup:
Kendrick LF
Turner 3B
Seager SS
Puig RF
Segedin 1B
Hernandez CF
Culberson 2B
Barnes C
De Leon P
PLAY BALL!