Just 24 hours after the Dodgers pummeled the San Diego Padres with the biggest Opening Day trouncing in history, Scott Kazmir stepped to the mound in Petco Park, and made his own mark as the second half of the one, two lefty punch at the top of the Dodgers' rotation.
The Padres broke out their funky oldies, 1970's brown and gold uniforms, perhaps in an attempt to change their mojo. Here's how Game 2 of the young 2016 season went down.
Spoiler Alert: It did not go well for the Padres.
1st inning:
Dodgers:
Corey Seager got the first Dodger hit of the night with a broken bat, one out single.
Justin Turner then batted into a double play to end the inning, but Seager put in a hard-nosed slide at second and Utley'd Padre second baseman Cory Spangenberg. Yup, I'm coining a new baseball term for a hard, but clean take out at second. It's called the Utley.
Padres:
Matt Kemp's first at bat was with a man on 1st and one out. He flied to CF but Yasiel Puig almost crushed young Joc Pederson in another incident of not listening to his center fielder calling for the ball. Puig helicopter'd young Joc as he quickly came at Joc from out of nowhere, almost causing a collision. Pederson had to reach behind himself and make a circus catch for the 2nd out.
Pederson then got a can of corn for the 3rd out. No Puig helicopter on that one.
Cameras showed Puig and Pederson talking in the dugout afterward. Puig seemed to be apologetic. Let's just hope he's more aware out there tomorrow.
2nd inning
Dodgers:
Yasiel Puig walked on a very disciplined at bat. He then took second on a Padre passed ball.
Joc struck out to end the threat and the inning.
Padres:
A 1-2-3 inning for Kazmir with 2 fly balls to Carl Crawford.
3rd inning
Dodgers:
The Boys in Blue returned the favor with a 1-2-3 inning for their turn.
Padres:
Another three up, three down inning for Kazmir.  8 in a row mowed down at this point.
4th inning:
Dodgers:
Corey Seager got the second Dodgers hit of the night.
Matt Kemp then ran a J-shaped route to eventually chase down an Austin Barnes long fly ball and make a desperation catch.
Adrian Gonzalez smacked out a double on another Padre misread by John Jay in center field.
Yasiel came up with 2 on and one out.
Puig absolutely BLASTED a deep triple to CF, cashing in both runs!
Carl Crawford then brought in Puig with an RBI single.
Young Joc then struck out for the second time.
Barnes flied out to end the inning.
Padres:
On the TV broadcast Bulldog Orel Hershiser broke down Kazmir's secret of the night as the big speed difference between his pitches. He was delivering a high 80's fastball and then was dropping 16-18 mph with his change up. The strategy was working because Kazmir proceeded to retire the next three Padres, making it 11 in a row. Kazmir  was absolutely matching Kershaw as the second big lefty in the Dodgers rotation.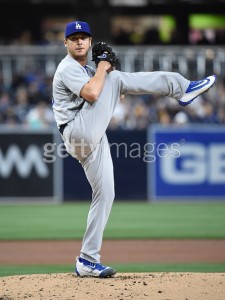 5th inning
Dodgers:
Kazmir led off and became James Shields 5th strike out victim of the night.
Corey Seager then smacked another Dodger Double.
Justin Turner was looking for 2-out ribbie, but he instead skied a can of corn to Kemp.
Padres:
12 in a row. 13 in a row. 14 in a row. Bang bang! Kazmir is dominating now.
6th inning
Dodgers:
Shields struck out the Butter and Eggs man with a called third strike that sent him back to the dugout real slow, whispering sweet nothings to the ump.
Puig and Crawford finished the inning in order.
Padres:
Three more Padres out – 17 in a row and only 75 pitches. Kazmir was done for the night.
7th inning
Dodgers:
Kevin Quackenbush came in for Shields, who ended  his night giving up 3 runs, 6 hits and a walk.
Enrique Hernandez batted for Kazmir.  Kike got on thanks to a Padre error.
That was all for the Dodgers in the 7th.

7th inning stretch
Padres:
Pedro Baez in for Kazmir. Now the Padres have to face a 95mph fastball.
First man struck out.
Kemp up. Back to back Ks for Baez.
Third out, ground out.
Baez with one inning, no hits, and two punch outs. 20 Padres in a row mowed down by Dodger pitching.
8th inning
Dodgers:
Brandon Maurer in to pitch for the Padres.
Justin Turner was unbuckling his shin guard for a walk to first, when he was rung up by the blind ump on a bad call, third strike. Turner went back to dugout with no-doubt-about-it words for the ump.
Padres:
Chris Hatcher on the mound for the Dodgers.
Another 1,2,3 inning. 2 ks and a sharp shot up the middle to Utley, who got him with a great run, grab, and throw to first. 23 little Padres knocked out in a row.
9th inning
Dodgers:
Puig led off with a ground out.
Trayce Thompson in for Crawford. Strike out.
Joc Pederson worked a 2- out walk, and then stole second during Barnes' at bat.
Full count to Barnes. Padres pitcher Fernando Rodney struck him out with a good, high breaking ball. Barnes ended his evening 0 for 4, with two strike outs.
Padres:
Kenley Jansen came in to close the game. He showed no lasting effects from taking a ball off the eye during batting practice last night. BTW – We reported on that in last night's LADR postgame show on ZCast. Be sure to join Scott and I as we break Dodgers news and break down the games the next time we podcast.
Back to Kenley…
The first Padre up cracked his bat for an easy out.
Brett Wallace hit in the pitcher's spot. Whoosh! A blazing fastball from Jansen struck him out.
John Jay stepped to the plate as the last hope for the Padres. He got a sharp hit past Jansen, who tried to kick at it, but Jay was too fast. He became the first Padre on base after 25 in a row shut down by brilliant Dodgers pitching.
Whoosh! Jansen delivered strike three on the high hard one to put the hapless Padres to bed.
Scott Kazmir ended the night with a line of 6 innings pitched, 1 hit, no earned runs, and 5 k's to keep his – and the Dodgers' entire pitching staff's ERA at 0.00
How sweet it is, indeed.