The Dodgers are playing a series in Miami against the Marlins. Meanwhile tens of thousands of Grocery store workers, associates are risking Covid exposure to support their families, stock shelves and keep everyone fed. These people are hard working. What they do every day is very honorable and they deserve our respect. Dodger's outfielder Mookie Betts dropped by a downtown Los Angeles Ralphs (on 645 W 9th St) last week to help create awareness for Covid-19 Vaccinations and show his appreciation for Grocery Store associates and other frontline workers.
Mooks will be working with Kroger, the company that owns Ralphs and many other stores to help drive more vaccines to undeserved communities. The pandemic has hit home for many communities, but especially at-risk communities. The worthy cause is near and dear to Mookie's heart. Here's what he had to say.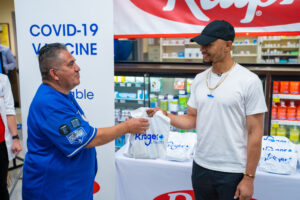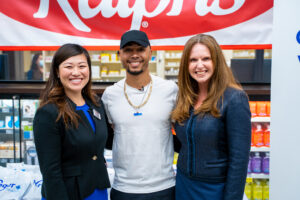 Check out some of the photos from the event, and the video below. The next time you are out at the store picking up dinner, or groceries say thank you to the store workers before you leave. They certainly deserve at least that much.
In Los Angeles, we've experienced a lengthy shutdown during this pandemic. I think we can all agree we want our lives to return to normal.  The best way to do that is for each of us to get vaccinated. My friends at Ralphs have been on the front lines since the beginning, and I'm honored to join their efforts to encourage each and every Angeleno to Take One For Their Team and get vaccinated-Mookie Betts