This is what the pennant looked like the last time the Dodgers were in the World Series. I had one of these hanging on my wall as a kid. All throughout my childhood and adult life I wondered when the Dodgers would return to the fall classic. It's long been a dream of mine to see the Dodgers play in the World Series. For many of us kids who grew up in the post-Gibson era, we've never seen the Dodgers play for a championship.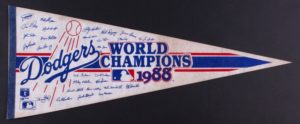 That is all going to change. The boys in blue are on the verge of history after beating the Cubs in game 3 of the NLCS 6-1 on Tuesday evening to take a 3-0 series lead. The Dodgers need just one more win to clinch their first National League pennant since 1988.
But what happens after they clinch? Let's talk about some of the wonderful events we'll get to experience that many of us have never seen before. These are things that are new to us, and for the first time in 29 years we'll get to experience them.
The Clinch
First things first, the Dodgers will clinch the National League Pennant. They have a 3-0 lead in the series, and I'm sure they'll do it in Chicago. Honestly I just can't see them losing two in a row, even if they don't win game 4. So whether they clinch in game 4 or game 5, they're going to do it in enemy territory at Wrigley Field. I would love to see them do it at Dodger Stadium in front of the home crowd, but watching them celebrate in front of 40,000 depressed Cubs fans is just delicious. Considering the Cubs eliminated the Dodgers last season in Chicago, it will be a nice dish of revenge. Tough luck Cubs. Now they get a dose of their own medicine.
After the last out is recorded, the players will converge on the mound and celebrate like we have never seen. They'll put on t-shirts that read "2017 National League Champions: Los Angeles Dodgers". They'll high-five and hug each other before taking the celebrating into the small visitor's clubhouse. They'll pop the bubbly and do the post-game interviews. Twitter will probably break.
The National League Championship trophy presentation
Next up is the National League Championship trophy presentation. Normally this is done on the field. Since the Dodgers will be on the road it will probably be done in the clubhouse. We've never seen this before, and we'll get to watch the commissioner crown the Dodgers the National League champion, and hand them the trophy. The trophy looks kind of like a building. Manager Dave Roberts, Andrew Friedman and a couple of the other executives will be there to receive it. A couple of the players will likely also be there. Clayton Kershaw, Justin Turner, or Cody Bellinger will probably be standing next to Roberts, Friedman, Stan Kasten, and the others. It will be a surreal experience. The same thing happens when they win the World Series, just a different trophy. But you know what that trophy looks like.
The NLCS MVP trophy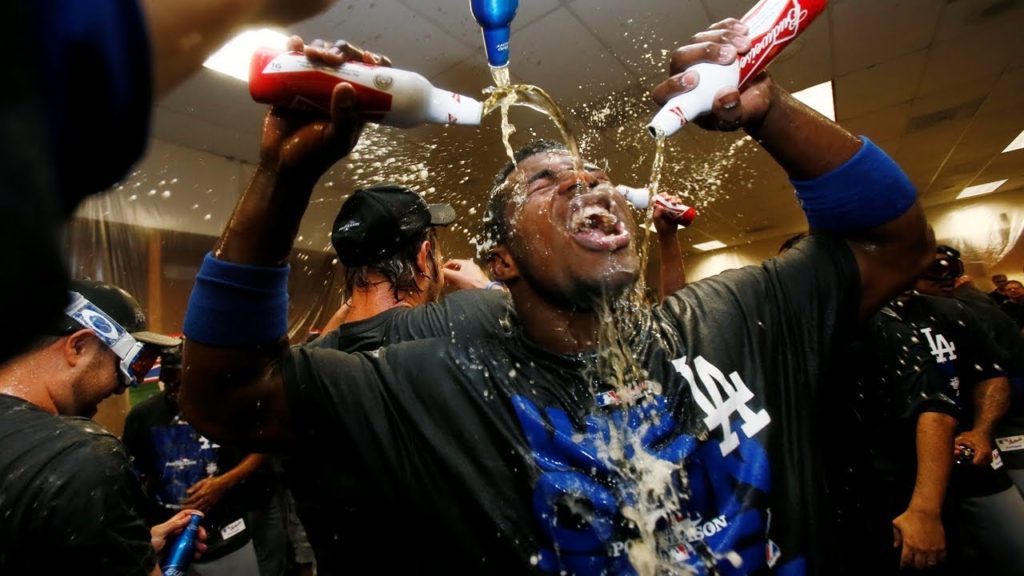 Next up will be the NLCS MVP trophy. That will be given to the most valuable player of the series. Who would you give the MVP too? My guess is that Justin Turner gets the award. However I can also see Yasiel Puig, or Chris Taylor getting it as well. My money is on Turner.
Merchandising
There will be tons of merchandising available for purchase when the Dodgers win the pennant and the World Series. You can buy shirts, hats, hoodies, etc. You'll also be able to buy a complete DVD collection of the entire historical 2017 postseason complete with highlights and interviews. We'll be able to fondly look back on this playoff run and always remember that this was the year where they finally did it. Up late at night? No problem just pop in that 2017 Los Angeles Dodgers World Series championship video. Grab some popcorn and relive the memories. They'll last for a lifetime.
Giants fans will be horrified
It was bad enough having to watch one San Francisco championship run, but we were forced to watch three of them. One was horrifying, but three titles were hell. They were all frightening and disgusting. Every single one of them. Every other year the Giants won the World Series over the span of five years. We heard endless smack talking from our bitter rivals. They shouted "three in five!" and taunted us with their World Series rings. They commented that we would never win one and Brandon Belt made some douchey comment about not being able to buy chemistry.
Oh and Grant Brisbee will be pretty sad. Every postseason run that ends in failure he gloats. He writes crap like this…and this….and something like this. ughh, so gross. Now he won't be able to write those stupid articles anymore. The Dodgers will be World Series champions so Grant and the rest of the Giants fans will have to go the entire winter knowing the Dodgers are World Champions. They'll have to look at the World Series champion patches on the Dodger's uniforms in 2018 during head-to-head games.
The Championship parade
That's the final part of this incredible journey. Once the Dodgers win the World Series they'll have a championship parade somewhere in downtown Los Angeles. Dodger fans will gather on the streets as the players ride down in cars and waive. It's basically a party where Dodger fans get lit, and confetti falls from the sky. Tommy Lasorda will be there. He's probably too old to dance like he did at the last one 29 years ago, but he'll be there and he'll be happy. Hear that Grant? Tommy Lasorda will smile and be happy. Vin Scully should be there as well. How cool would that be to see Vin riding next to Tommy at the parade?
Other things
The old defunct Dodgerblues website would have to shut down their infamous Gibson clock. Andrew Friedman will go down as the greatest executive in franchise history, despite plenty of criticism. I'll never complain about him again. People will message me and say "See! He has a vision!" He sure does.
The players will all become household names, even more than they already are. Justin Turner, Clayton Kershaw, Kenley Jansen, Chris Taylor, Yasiel Puig, etc. will all be heroes. The ring and flag ceremonies will be the following season. Opening day will see the Dodgers raise their championship flag, or add another one along the third base façade.
Stacie and I will cry
Oh I'll cry like a little girl when the Dodgers win it all. I'll probably cry when they win the pennant too. I'll sob like a baby and so will my sister. We've long dreamed of this since we were children. Finally getting to realize our wildest dreams is an amazing feeling.
The Dodgers just need to destroy the Cubs for one more game. Then win four more after that. Who do you want to see the Dodgers play in the World Series? Part of me wants to see a Dodgers/Yankees World Series since there hasn't been once since 1981. Two iconic franchises meeting again in the World Series would be huge. Then again part of me also believes that the Yankees are gross, a big part of me actually. Ok all of me believes the Yankees are gross. Then again, the Astros are pretty darn good. They may be tough to beat. What if the Dodgers don't win the World Series?
Gulp……
Please Win the World Series this season Dodgers