I often drop tidbits about the not-so-secret world of Dodgers Twitter in my articles here at LADR, and I've even devoted Youtube videos to what takes place in Twitter while we're watching our favorite team steamroll their opponents.
Twitter is a semi-anonymous way to interact with fellow fans, writers and bloggers, and on occasion, the athletes themselves. At times, it can become an unpleasant place because of Dodgers fan Twitter wars over one thing or another, but 99% of the time, it's a great way for fans of our boys in blue from all around the world – yup, the world – to share in the triumphs and hard times that come with every baseball season.
I'm sure you're familiar with the old saying, "We should all get together some time." All too often, it never happens, but now and then, it does. Last night, thanks to the vision and follow-through of Dodger fan and twitter master, DontLookatAngie, (@4Ev3rblue), that wish for a Dodgers Twitter get-together came to blue fruition – and I was lucky enough to be there as well.
Angie made arrangements for our NLCS game 3 watch party to take place at Big Wangs – a not-so-subtle nod to the inside jokes that float around Twitter about Dodgers dongs and dongers, aka home runs). There was no way I was going to miss this opportunity to mix and mingle with like-minded twitter-heads, so I headed out and into the dreaded LA rush hour traffic and made my way to North Hollywood and Big Wangs.
The party was taking place in Wang's side patio, and I arrived just at the bottom of the first inning. Everyone was already there, and I was greeted with warm handshakes and big smiles all around.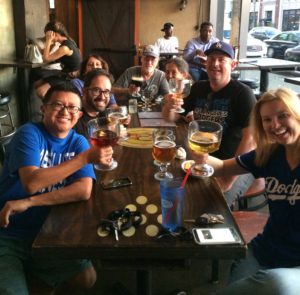 That smiling blonde up front is Angie. She's every bit as fun and lively as I expected. Get a gander at those beer mugs! They call them "Big Wang-sized" here.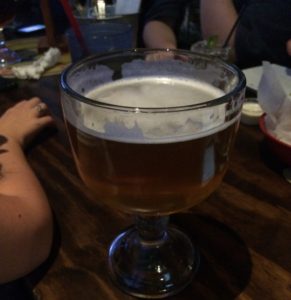 Fill that baby with a hoppy IPA, add a few new friends and the Dodgers stomping the Cubs, and you've got a recipe for a great party.
The patio overlooks Lankershem Boulevard. The open-air environment added to the LA feel, and I'm sure folks on the sidewalks and driving past could hear our loud crowd every time the Dodgers added another nail to the Cubs' baseball coffin.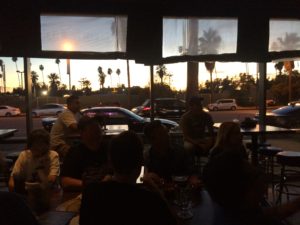 At one point during the game, my friend (upon returning from the powder room) alerted me to the fact a local news team was out in the main room getting fan reactions. I quickly let Angie knew, and we headed out to let the news crew know we had a Dodgers Twitter party taking place out in the patio. Reporter Crystal Cruz and her news team dropped in for a visit.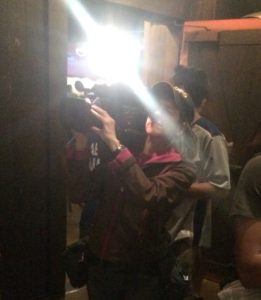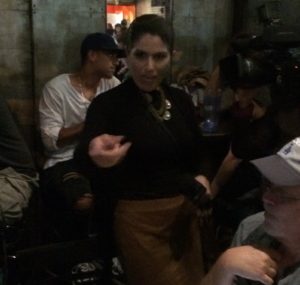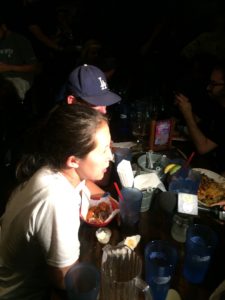 After she interviewed a few of us, we all went back to watching the last couple of innings of the game. Our cheers got louder, and soon we were chanting "Six more outs" and so on until we got the final out, and the Dodgers completed the night's domination of the Cubs.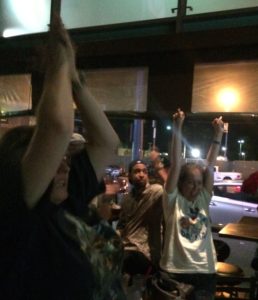 What a win! I had a blast meeting my fellow Dodger tweeters and celebrating the win among new friends. I can still feel everyone's high-fives on my hands. What a great night!
Here's the twitter roll call of who was present. Give us a follow and join us on Twitter for the next Dodgers game!
@omsports42 (your faithful reporter), @4Ev3rblue (Angie), @DodgerDegan, @SimAlex82, @lawbibliophile, @rockpie258, @katnish16, @themunson, @DavidYoungTBLA