Don Newcombe was inducted into the Shrine of the Eternals last Sunday. Being an ardent fan of the Dodgers, and loving baseball as much as I do, I made it a point to be there. Besides Newcombe, Bo Jackson, and some sportswriter were also being inducted. At least year's ceremony, I rubbed elbows with my first favorite Dodger, Wes Parker. This time, Bo was on the ticket! And I was hoping to interview Newk for LADR. It was going to be a great day.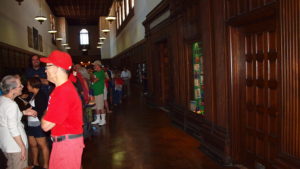 If you're not familiar with the Shrine of the Eternals, and you love baseball like I love baseball, do yourself a favor, and get to know the Baseball Reliquary and its curated branch,  The Institute for Baseball Studies.
As the ceremony went on, Newcombe and Jackson turned out to be no-shows, but thankfully, Arnold Hano took the time to be there. Hano is perhaps best known for being lucky enough to witness Willie Mays' incredible catch of Vic Wurtz's World Series fly ball, and prescient enough to immortalize it in his book A Day in the Bleachers.
Hano walked a bit slowly, like a 94-year old, but he spoke with the sharp wit and enthusiasm of a man who loves to tell a good story. The room had been disappointed by the absence of the big-name athletes, but once Hano began weaving his baseball stories, with that contagious smile of his, all of that was forgotten.
From his opening take against computers calling balls and strikes, to his stories of Carl Hubbell and Babe Ruth, the room reflected Hano's joy at being there, and the crowd frequently laughed – as he put it – "In all of the right places".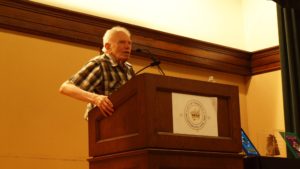 In a stroke that touched me beyond the sports pages, it turns out Hano is a man who writes about much more than the size of umpire's hearts, he also considers the size of the human heart.  He championed Latino ballplayers (and causes) when few other writers bothered. In his acceptance speech he mentioned the tragedy that befell the community of Chavez Ravine, and fondly recalled Orlando Cepeda taking him around the Giant's locker room, introducing him to Juan Marichal and the other Latinos on the team as, "Our friend."
I went to an awards ceremony expecting to see Newcombe, Bo, and "some sportswriter". Turned out, I was the one awarded in learning about, and listening to, Arnold Hano. A great day, indeed.