This season the Los Angeles Dodgers are celebrating the eight players and two managers whose numbers they have retired. Nearly a generation has passed since the last one; Tommy Lasorda's number 2 was retired in 1997. The time has come to add Fernando Valenzuela and his number 34 to this hallowed list.
Before the teenager Julio Urias burst upon the scene, Valenzuela was the youngest Dodger to make his debut on the mound. At the age of 19, he was first called up to the Dodgers' bullpen in 1980. Upon arrival, he pitched 17 2/3 shutout innings, while helping the Dodgers into a first-place, division tie with the Houston Astros.
Valenzuela became a surprise starter on Opening Day in 1981, when scheduled starter Jerry Reuss was injured. Making the most of his opportunity, Fernando shut out the Astros 2-0. He then went on an incredible 8-0 start to the season, posting five shutouts and an ERA of 0.50.
By the end of his rookie season he led the majors in complete games (11), shutouts (8), innings pitched (192.1) and strikeouts (180). For context, one must consider this was back in the days when starting pitchers were expected to throw eight and nine innings. From 1981 to 1987, no NL starter won more games than Fernando.
He became the first player to win the Cy Young and Rookie of the Year Awards in the same season.
In addition to his prowess on the mound, Fernando was one of the best hitting pitchers of his day, twice winning the Silver Slugger Award (1981, 1983).
Over his career, Valenzuela played in six All-Star games.  In the 1986 contest, he struck out five consecutive AL batters, tying a record set in 1934 by fellow southpaw screwballer, Carl Hubbell.
In 1990, he pitched a no-hitter. It was the second of the day. Before their game, Valenzuela and several teammates, including Mike Scioscia, watched former-Dodger Dave Stewart throw a no-hitter on television in the clubhouse. Afterward, Valenzuela remarked, "You've seen a no-hitter on TV, now you're going to see one in person." And then he went out and did it.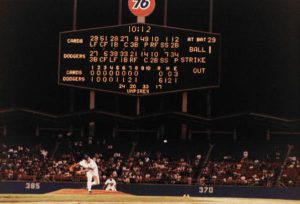 His on-field accomplishments aside, the Dodgers should give special consideration to the intangibles surrounding Fernando's time as a Dodger. Valenzuela almost single-handedly presented the Dodgers to L.A.'s Mexican-American community as a local sports entity to be followed and loved, and not as a symbol of corporate power that destroys neighborhoods.
Chavez Ravine was the name of the Mexican-American community that was displaced – with many residents forcibly removed – on the very spot Dodgers built their new stadium on after moving operations to Los Angeles from Brooklyn. As a result, the Dodgers were resented by many, who swore never to set foot inside the stadium. Thus, through their first twenty years in heavily Latino Los Angeles, the Dodgers' fan base remained largely white.
All of that changed in 1981. Long before social media constructed brands, Fernandomania went viral. Valenzuela was much more than a baseball star – he became a community hero and a cultural icon. Fernando vastly expanded the Dodgers' fan base through the Latino community surrounding Chavez Ravine and throughout the country.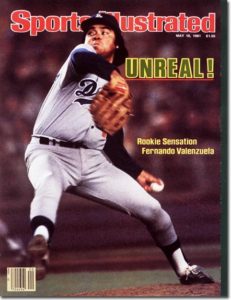 Valenzuela's presence spun baseball's turnstiles like no one had ever done before. Pre-Fernando, the Dodgers had reached the 3-million attendance mark only twice. During the height of Fernandomania (1982 to 1986), the Dodgers topped 3 million every season. In stadiums across the country, a Fernando Valenzuela start raised attendance numbers by an average of 13,000.
 "I truly believe that there is no other player in major league history who created more new fans than Fernando Valenzuela. Sandy Koufax, Don Drysdale, Joe DiMaggio, even Babe Ruth did not. Fernando turned so many people from Mexico, Central America, South America into fans. He created interest in baseball among people who did not care about baseball." – Jaime Jarrin, Dodgers broadcaster
Through all of his baseball success and the media fanfare, Valenzuela remained a humble and soft-spoken ambassador of goodwill for the team. Since his retirement from baseball, he continues to be an active member of the Dodgers family. He often appears at team-sponsored events, and has been a Spanish-language radio and television announcer for the Dodgers since 2003.
Former Dodgers owner Walter O' Malley sent his scouts out in a search for "the Mexican Sandy Koufax", and they found him in Fernando Valenzuela. Little did they know they also found the Mexican Jackie Robinson. Just as Jackie changed the face of baseball, Fernando forever changed the face of Dodger Stadium.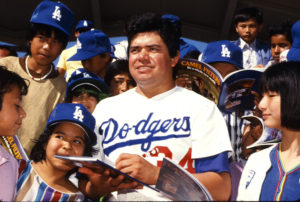 Long after leaving the diamond, Fernando Valenzuela remains a hero to those who grew up watching him pitch. When the Dodgers retire his number, it will ensure he remains an inspiration for generations to follow.