Ever wonder what it would be like to watch a professional Baseball game in India or Dubai? Wonder no more because it's happening. The first ever Middle Eastern/Indian professional Baseball League is a vision of Baseball United Founder and CEO Kash Shaikh. He is the kind of man that turns visions into reality. With the help of hall of famers Mariano Rivera, Barry Larkin, and former Dodger and MLB all-star Adrian Beltre, baseball fans all over the Middle East, India and other parts of the world will get their first glimpses of professional Baseball.
Beltre just recently joined as investor, Co-owner and board member to join Rivera, and Larkin as one of the most respected and star-studded Ownership groups in the history of the sport. Who wouldn't want their league owned and operated by former big leaguers, especially former hall of famers? I recently sat down virtually with Kash and Beltre to discuss some of the details of the newly formed league, which will announce the creation of their inaugural franchises this spring, followed by a showcase in November of this year where we will see this unique idea start to take form.
Our goal is to be the second best professional Baseball league in the world, and grow the game, grow the love of the game at the grass roots level. Our mission at Baseball United is to inspire 2 million more fans to fall in love with the game of Baseball. ~Baseball United Founder CEO Kash Shaikh
Kash initially made a comparison to the USFL launch, talking about playing in different cities in different regions. There will be four franchises announced this spring with the league looking towards expansion to six, and eventually eight clubs focusing on playing in the regions of the Middle East (Dubai) Sri Lanka, and India among others. Kash talked about the formation of the league, and growing the passion and outreach of Baseball to places of the World that normally have limited access or perhaps have never seen it. The League will have a regular season, postseason, and the rosters will be structured similar to the MLB format (26 players). Kash talked about reigniting the passion of the game with old school play. I loved hearing him and Adrian talk about the good old days of baseball before analytics when base-runners barreled into catchers and takeout slides were a normal everyday part of the game. I miss those days.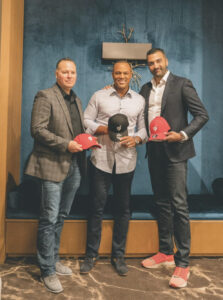 I was able to sneak in a couple of Dodger questions for Adrian. He talked about his first at-bat at Dodger Stadium and that fun 2004 team that won the NL West on Steve Finley's walk-off grand slam. He talked about some of his most influential teammates and coaches such as Tim Wallach who he credited with helping develop his hitting approaches.
I had some technical issues with Zoom so the first few minutes of the video are cut off, but have a watch. Baseball United will be announcing the first four franchises after the World Baseball Classic, and the showcase in November will feature nine games, one of them being an exhibition.
Baseball as a global sport belongs to the World. It's not just an American Pastime, it's a global pastime. Guys like Kash and Adrian are doing their part to expand the worldwide reach of the greatest game on Earth. Baseball is an essential part of our survival. You can tell how deeply Kash and Adrian love Baseball. Stay tuned for the announcement this spring and keep an eye out for more updates on the launch of Baseball United.