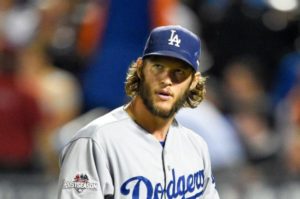 Vin Scully only has one more game to call in his professional career, and he was the only reason to keep watching this game. He called a better game than the Dodgers played, as the team blew a chance to knock the Giants out of playoff position, losing 3-0 to, that's right, another lefty *drink*.
Clayton Kershaw was, playoff good? I guess that is a decent way to describe it, Kershaw was rolling for a long time, getting through the first 3 innings throwing somewhere close to the minimum amount of pitches, but he got extremely unlucky, as one of very few mistakes got hit a long way by Angel Pagan in the 5th inning giving the Giants a 1-0 lead.
Kershaw did get into trouble in the 7th inning as Angel Pagan singled to right, Brandon Crawford followed that with a single to third base that was scored as a single, as it was a deflection of Clayton Kershaw. Unfortunately for Clayton, Justin Turner tried to do too much with it and threw the ball in the stands, scoring Pagan. A sacrifice fly would bring in Brandon Crawford to give the Giants an insurmountable 3-0 lead.
It would be nice for Kershaw to turn in a dominant performance in a playoff like atmosphere like he did in New York last season, but there isn't much he could do about the deflection that resulted in 2 unearned runs against him. Ultimately he turned in 7 innings pitched, 1 earned run, 4 K's (he made up for that by only making 82 pitches) with 6 hits allowed and his 11th walk of the season (!!). It was adequate! hah.
None of that matters if the Dodgers can't hit lefties. Some guy named Ty Blach, who was making his 2nd ever start, dominated this lineup, only allowing 3 hits (singles by Yasiel Puig, Adrian Gonzalez, and Joc Pederson). This has been a problem all season, but the Nationals have a left handed starter in Gio Gonzalez that the Dodgers could see as early as game 2 against them, and if the Dodgers are fortunate enough to advance to the NLCS, the 100+ win Cub team could throw Jon Lester against the team 3 times in a 7 game series.
I wish I could say I didn't care about this game but not being able to hit a mediocre lefty just feels terrible considering the team versus LHP might be a fatal flaw this team has.
But we should recognize that the Dodgers closed out the last 2 seasons extremely strong and that didn't matter at all in the playoffs. Heck the Giants have looked totally inept in the last series of the season before and went on to win the world series so it doesn't really matter how the team is playing as long as they figure it out next Friday.
The goals tomorrow should be to win to force a 1 game playoff for the 1 game playoff and to soak up as much Vin as possible.