The absence of Vin Scully won't be felt until next season. Vin Scully is someone we took for granted as if he would be the one constant in our lives all the time. He brought people together no matter what color or belief. Vin has lived a long and good life. Have you ever heard of anything negative about Vin Scully especially with social media today? With all the social media hype machine today and all the different announcers of today. It seems odd that no one has been able to touch the hearts of people and strike a bond with people like Vin Scully. It reminds me of when Chick Hearn passed away and still to this day, the Lakers games haven't been the same.
Vin Scully is like your grandfather. He is someone you could turn to for advice. His soothing voice is what I will always remember. When I think of Vin I go back to the early to mid-90's, when the Dodgers had Eric Davis, Darryl Strawberry, Eric Karros, Mike Piazza, Raul Mondesi, Hideo Nomo, and Todd Hollandsworth. My mind also travels to the 1980's when was doing the 1986 World Series on NBC with Joe Garagiola. The famous call: "Little roller up along first. Behind the bag. It gets through Buckner! Here comes (Ray) Knight, and the Mets win it."
Vin was the voice of summer and still is. I remember hot summers in orange county. I would escape the world by listening to Vin with my radio. I would have the lights off in the room during those summer nights with the window open and the shades open. I could see the trees and stars in the outside in the quiet dark. I was in a room on the second floor of my aunties house on a quiet street. I would hear Vin tell the story of the game that brought it life without a TV.
He always added his stories of former players or current players. I would hang on to his every word hoping for the Dodgers to make the play to win. I think of all the decades he spanned, he started with the organization in 1950. He got to see the Dodgers play in Ebbets field in Brooklyn. To think of all the different stadiums, he has witnessed must be unbelievable. He witnessed Gil Hodges, Duke Snider, Sandy Koufax, Don Drysdale, Ron Cey, Steve Garvey, Orel Hershiser, Fernando Valenzuela, Shawn Green, and Adrian Beltre.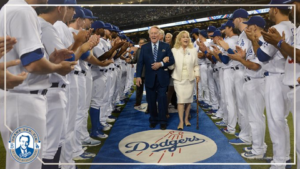 Vin witnessed the move to Los Angeles from Brooklyn. All the historical events that have taken place since he became the voice of the Dodgers. These are some of the things that have happened since 1950. The Cold War, Elvis Presley, Beatlemania, Neil Armstrong, Richard Nixon, MTV, Los Angeles Riots, 9/11, and Barack Obama being elected President. All the players and things he witnessed, Vin was like a sponge for knowledge.
What made Vin stand out was the fact he was so approachable. Back when he was a boy in New York, radio was the main source to keep track of baseball games. He brought that talent of being able to create the images to display in your head while listening to the airwaves of the National Past-time. Even when he started doing television, his insightful stories took you back into the past.
Vin Scully also announced football games and golf during his career. He has a lot of famous calls. Including this one: "Montana…looking, looking, throwing in the end zone…Clark caught it! Dwight Clark!…It's a madhouse at Candlestick." This was from the 1981 NFC Championship game which pitted the San Francisco 49ers vs the Dallas Cowboys.
I'm sure there will be people who read this article and will not know some of the names mentioned. I'm glad I lived in a time where I do know these names and events. I want my young kids to eventually learn who this great humble man was who provided a great service to us for 67 years. In an age where most people need to be controversial to standout, or have endorsement deals, twitter followers, or appear on ESPN First take. Vin truly did it his way without any of that.
His famous line.
"Hi, everybody, and a very pleasant good (afternoon/evening) to you, wherever you may be.