Julio Urias has only been in the majors for one season but he is already developing one heck of a pickoff move. Not surprising considering he is teammates with Clayton Kershaw who has one of the best pick-off moves in the game. Kershaw is one of the MLB leaders with 57 pick-offs. He's had as many as 11 in one season. Oddly he hasn't had any this year.
Urias and Kershaw are both left handers and I wouldn't be shocked to hear that Kershaw has taught him some of the secrets of the deceptive trick to catch base runners napping. The pick-off move is an added arsenal in the pitcher's bag. Urias recorded his sixth pick-off this year in the second inning of the Dodger's 3-0 loss to the Yankees. Here he catches Starlin Castro off guard. The first base umpire originally ruled him safe, but the Dodgers challenged and the call was overturned. Check it out below.
Of course who could forget that game against the Brewers where Urias picked off Jonathan Villar not once, but twice. The first one was overturned by instant replay. So Urias just threw over there again and got him on the second try.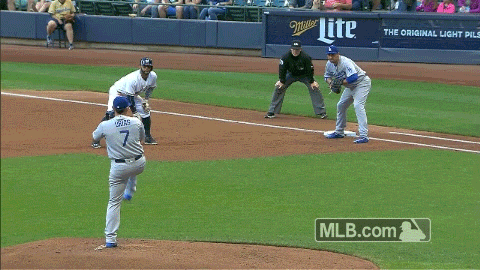 Urias leads the majors with his six pick-offs. He's already becoming a master of this lost art. There are many who still believe that left handers walk a fine line between balking and deceiving the base runner when they pick-off a runner. They face the base runner at first base and there will always be a grey area.
Generally a base runner will have to look for subtle clues as to whether a left hander is coming to the plate or throwing to first. A lift of the leg, a knee buckle, or perhaps even a small movement. You don't have to have an expert level pick-off move to succeed as a major league pitcher. Look at Jon Lester as an example. It definitely doesn't hurt though.
Every out helps and having a great pick-off move Will help the club get additional outs. Urias has certainly developed a dandy. I think Kershaw is rubbing off on him more than we know.