There's no other explanation for it. Somebody must be turning the screws on Farhan Zaidi and Dave Roberts, forcing them to keep the light to non-hitting Justin Turner in prime spots of the Dodgers' batting order.
Despite never returning as the power hitter he was last season, and not making contact in any sustained manner this season, Turner has been placed in one the top four batting spots in every game he's started this year. Turner has batted third in 33 of his 47 starts, and he's been more harm than help in most of them.
Lots of folks think a team's biggest home run hitter should bat third. Actually, a team's big bomber should bat fourth, in the clean up spot. The third slot is usually reserved for the best hitter on the club. Sure, he has home run power, but he can also hit according to the situation, taking what little opportunity a good pitcher gives, and turning bad pitches into singles and doubles. His job is to cash in baserunners and keep rallies going, or to get on with two out, so the team's big bopper can drive him in.
I don't know what at-bats Roberts and Zaidi were watching, but they weren't Turners. With a few notable exceptions, Turner has been a weak-hitting, harmless out, in one of the most important batting slots on the Dodgers' offense, for most of the year.
With more than a third of the season behind us, just what makes the Dodgers' brass think Turner will suddenly turn on the talent and start swinging with authority? Could they be relying too much on charts and "tendencies"?
If that's the case, maybe they should defrost Ted Williams and let him bat third. I wonder how many months they would let Teddy Ballgame's half-frozen corpse kill rallies while waiting for his "tendencies" to kick in?
I'll keep it real and admit Turner's glove at third base is valuable. I'm not advocating benching the man. He shows flashes of the ol' Penguin from time to time, but unfortunately, the man bats like a real penguin – or perhaps, like a chia pet. Either way, he's got no business hitting at the top of the batting order.
So what did Roberts do with this man who kills rallies? He bumped him UP in the order. A guy who was 3 for his last 18, and who hasn't batted lead off in over a year, was granted the responsibility of batting lead off against the Rockies last night.
So how did he do? As expected, of course. Turner went 0 for 4, and reminded long-time Dodger fans of the lead-off bust, Juan Pierre, and his harmless fly outs that began far too many Dodger innings with an automatic out. Turner handicapped the Dodgers every time he led off an inning.
We've all heard about one player's bat meaning so much to a team; how one hitter can set the pace for everyone. If that's true in a positive sense, then it must also be true as an opposite.
One player, batting in a prime spot, and constantly failing, can set the tone for a game. He stops momentum, harms the dynamics of an inning, takes the enthusiasm out of the home crowd, and lifts the spirits of the opponent.  I  am sorry to say, that is a Justin Turner at-bat. He has stopped being the cute chia mascot, and has become a heavy Red Albatross around the Dodgers' necks.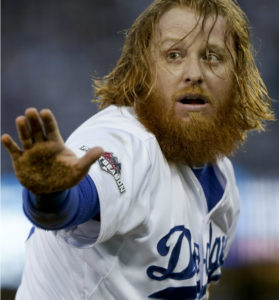 Justin Turner must have photos of Vin Scully wearing a SF Giants cap, or of Tommy Lasorda eating broccoli, because chances are, Dave Roberts is going to ignore reality, and bat him in the top of the order again.