Fantasy sports industry leader DraftKings is the top provider for daily fantasy sports league contests. Now, for the start of the 2018-19 baseball season, we've partnered with DraftKings to bring all LADR readers a completely FREE ENTRY to the $5,000 Opening Day fantasy baseball contest. For those of us unfamiliar with 1-day fantasy sports, these are daily leagues or contests where you can enter and pick your lineup every day to win money or prizes. DraftKings provides the framework for these campaigns and you pick your lineups and players each day throughout the regular season. The players that choose the best lineups can win big money or prizes. Play Now!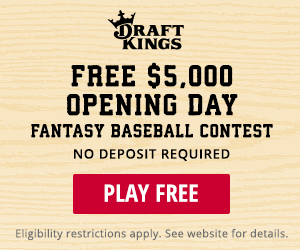 Opening Day is fast approaching and this completely FREE promotion will get you going for the new baseball season. Guys, it's a free shot to win a share of $5,000! That's right; DraftKings and LADR are partnering up to deliver a scorching heater. Only you can hit a home run by signing up to play.
320 places will win money guaranteed. Again this is totally free to play, so make sure you sign up as soon as possible to have a shot at the cash. The deadline to enter is 3:05 PM EST on Thursday March 29, Opening Day. Have your lineups in by then in order to compete for cash. Get drafting today! Click Here to Play!