The Dodgers have made losing to the Giants in San Francisco into an art form. Honestly you could consider them the Vincent van Goghs' of the loss to their hated rivals. My god it's infuriating. I can handle the losing, but when the club totally rolls over to the Giants in almost every game up North it gets a little tiresome. It's hard to believe that they can't squeak out one little win in Phony Book park?
Well they can't probably. Let the numbers speak for themselves on this. The Dodgers are now 6-19 at At&t Park in their last 25 games played there. Keep in mind 4 of those 6 wins were with Clayton Kershaw on the mound. Monday night's 8-4 losing masterpiece is yet another example of the club's inability to beat the clubs in their own division.
The Dodgers are now 15-15 against the NL West. In comparison the Rockies have an 18-10 record within the division. You have to win in your division to win your division and the Dodgers have shown an inability to do that as well. Not only can they not beat the Giants, but can't beat the Rockies or dbacks either. The Dodgers can only beat the Padres.
Dodgers @ San Francisco
Rich Hill-1-1 vs. Ty Blach-0-2
Game Time – 7:15 PM – TV-SNLA
And it doesn't matter how good or bad the Giants are. The Dodgers will still find a way to lose against them. For the record the Giants are bad this year. They've been one of the worst clubs in MLB up to this point in the season, languishing in last place until the other day. That matters not to the Dodgers because they will still lose anyways. They'll find a way to lose in many different ways which makes them experts. They'll blow leads in the late innings to Mendoza line hitters. They'll make stupid defensive boners, or base running mistakes. Or the bats will just go cold. Either way they'll lose. Oh yes they will lose.
It's pretty annoying because they've been playing so well of late. They had won 13 of their last 17 and are still only two games out of first place. Brandon McCarthy (the hulk) was unsurprisingly awful in his return start from the disabled list. His ERA has now jumped to 4.15. As I have said before it's not surprising to see him pitching poorly and getting hurt. We'll revisit this later in the season when he's probably on the disabled list.
The Dodgers will try to even up the series as Rich Hill returns from the disabled list. The Giants will counter with rookie Ty Blach.
The blister boy has pitched in only two games this season. He's 1-1 with a 3.38 ERA in eight innings pitched. In his career against the Giants he is 3-2 with a 2.70 ERA in 8 starts. At At&t Park he is 0-1 with a 4.50 ERA in 3 career starts.
The current Giants are hitting .344 (15 for 44) against Hill and have posted an .852 OPS. Check out the numbers below.
Hill vs. Giants
Ty Blach is the 26-year old left hander that was placed into the rotation when ace Madison Bumgarner went down with the shoulder/rib injury after crashing his dirt bike. Blach's super low strikeout and swing and miss rates should be very concerning for the Giants. In 27.2 innings pitched he's struck out only 7 and walked 8.
His strikeout per nine rate is the lowest I have ever seen for an MLB pitcher at 2.3. Yet Blach isn't as bad you think. He's posted a 4.88 ERA and his 2.6 BB/rate has helped him keep runners on base. He's a control pitcher, and while he may not have a dominant pitch, he can still get batters out.
The Dodgers couldn't do much off of him when they faced him back on April 25. In that game he tossed 5 innings and allowed two earned runs on four hits with two strikeouts in a tough 2-1 loss. The left hander has a 1-1 record with a 1.13 ERA against the Dodgers in two career starts.
The Dodgers are batting just .154 (6 for 39) against him. Check out the rest of their numbers below.
You can also check out Numberfire's numbers with Nerd projections for the nerds, and runs allowed.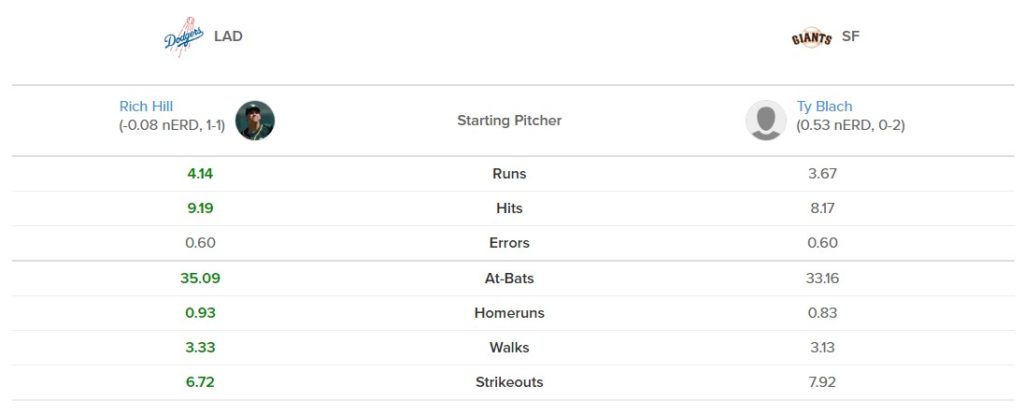 Blach vs. Dodgers
Red Hot: Yasmani Grandal has a 9-game hitting streak and is now batting .292 with an .845 OPS.
We'll see if the Dodgers can actually pull out a win in San Francisco without Clayton Kershaw on the mound. Let's also see if Hill's blister pops up again. I think (unless they've already tried this) maybe they should just pop it. Get a safety pin and just bust that baby open and rip it off like a band aid. He'll miss another couple of starts, but that might be the solution to it not reoccurring.
Or maybe they can put him in the bullpen. Either way is fine.