On April 15, 2017, the date that all of MLB celebrates the legacy of Jackie Robinson, the Los Angeles Dodgers unveiled their first stadium statue.
It's a magnificent depiction of Robinson in the act of stealing home.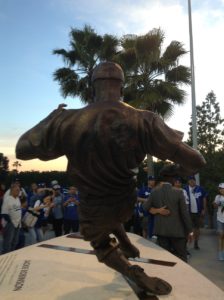 The larger than life bronze figure is set upon a marble base that is adorned with a brief bio, quotes from Robinson, and his number 42, the only number retired throughout all of baseball. 
I took some time during Saturday's game to step onto the Reserved Level Plaza that is home to the statue in the hopes of getting a few photos. I was lucky enough to also catch the sculptor, Branly Cadet, standing beside his work, proudly – but humbly – posing for photos with a seemingly unending line of Dodger fans.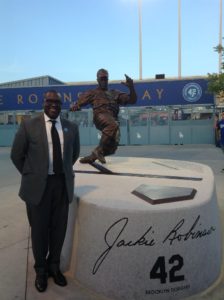 The artist was gracious enough to answer a few questions for LA Dodger Report before we all hurried back inside the stadium to catch the rest of the game.
Here's what he had to say on being selected as the sculptor:
"When the Dodgers first announced they wanted a sculpture of Jackie Robinson, I sent them my portfolio. Jackie Robinson is one of my childhood heroes, so I would love to be considered. They asked me to come in and submit  some of my ideas. I guess they liked my ideas.
On Robinson's largest contribution to the game:
"When baseball started in the 1800's, it was a segregated sport. Even back then, people were trying to bring blacks and whites together. It was Jackie Robinson who actually broke that color line. Stealing home is one of the hardest things to do in baseball, and breaking the color line was also one of the hardest things to do in baseball.
On his concept for the pose:
"Stealing home is what I felt distinct on. The title of the piece is "Stealing Home. The Point of No Return". It's the point of committing to this act. The act of stealing home requires courage, focus, timing…and to break the color line, also required courage, focus and timing. Everyone that was involved…Jackie Robinson, Branch Rickey and the Dodgers organization all of them had to have those qualities."
On what meaning he wants the sculpture to portray:
"I wanted the sculpture to capture not only his significance on the field, but also what he contributed to American history. "
On the creative process behind the sculpture:
"I was listening to his (Robinson's) autobiography on audible while sculpting, so his words were speaking to me while sculpting."
Mr. Cadet and Mr. Robinson's collaboration was a truly a success, as "Stealing Home" will stand as a fitting monument to everything Jackie brought to baseball and the nation for generations yet to come.