The mercurial Yasiel Puig was demoted to the minors yesterday after the Dodgers unsuccessful attempts to trade him. We all know the narrative, he splashed in the scene a few years back with the moniker "The Wild Horse." His attitude left a lot to be desired and his OPS during the last few seasons has sunk like the Titanic.
A story was reported that he stormed off when hearing the news of his demotion, which turned out to be false.
http://www.cbssports.com/mlb/news/report-yasiel-puig-doesnt-fly-with-dodgers-after-learning-hed-be-traded-or-demoted/
I feel this was a PR stunt to put Yasiel Puig in bad light. A few years back a book titled "The Best Team Money Can Buy: The Los Angeles Dodgers Wild Struggle to Build a Baseball Powerhouse," by Molly Knight basically bashed Puig and detailed some of his run ins with teammates. In my opinion, this season he seemed to have turned a corner although his hamstrings didn't. I think he needed more time to adjust to American culture and also he needed more developing of his MLB skillset.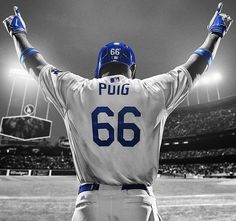 These are the current outfielders on the Dodgers. Newly acquired Josh Reddick, Andrew Toles, Scott Van Slyke, Kike Hernandez, Joc Pederson, Howie Kendrick, Trayce Thompson, and Andre Ethier.  Howie Kendrick, Kike Hernandez, and Scott Van Slyke are versatile because they can also play the infield. Trayce Thompson and Andre Ethier are currently on the DL.
Andrew Toles is an Andrew Friedman guy and he brings the speed dimension to the club. I feel as though Howie Kendrick and Chase Utley should platoon at 2nd. The old lefty/righty thing. Scott Van Slyke could give Adrian Gonzalez a spell once in a while. Kike Hernandez could give Justin Turner and Corey Seager a spell from time to time.
I feel the best defensive outfield is Josh Reddick, Joc Pederson, and Yasiel Puig who is no longer on the club. I also feel that Puig is a better hitter then some of the outfield options I have mentioned.  Puig has been hitting well since he came off the DL recently. It's even more frustrating that a front office with that attitude and analytical bent has continued to indict Puig during a 30-game stretch that he's been hitting .301/.383/.430.
I am not a person filled with Puig superlatives. I just think he is better then some of the other options. If the Dodgers wanted to work on his craft, they should've sent him to the minors a long time ago. I hope he can come back to the Dodgers an d contribute down the stretch after he has worked on his game.Yasiel Puig is a force of nature who puts people in the seats and keeps you entertained to see what he will do next. His teammates never gravitated to him. I think in the end that was his downfall.
Yasiel Puig does have one person in his corner and that is Dodger CEO Mark Walter.
http://www.latimes.com/sports/dodgers/la-sp-dodgers-puig-walter-20160729-snap-story.html
The backing of Mark Walter might prove to be the life vest that Puig needs. I sure hope so. Because like Mark Walter I do believe he has a ton of Talent. Also by the way Josh Reddick and Justin Turner are free agents at the end of the year. So we might need him.