Things in the NLCS were shaping up for the Dodgers, who had taken a two games to one series lead over the Cubs. The boys in blue seemed to have momentum on their side, and then they ran into a Chicago buzz saw. They were crushed in Game 4, the Cubs tied the series, and everything was different again.
In Game 5, the Dodgers sent Jeckle and Hyde starter, Kenta Maeda to the mound, while the Cubs used southpaw Jon Lester.  This meant manager Dave Roberts trotted out another of his subpar, ridiculous righty lineups.
Kiké Enrique Hernandez was in the leadoff spot, Carlos Ruiz batted leadoff, and sparkplug Andrew Toles rode the pine. Like I said – ridiculous.
Here's how the game unfolded:
1st inning
Maeda started out shaky, walking a runner and giving up a couple of hits to surrender the first run.
After that, he settled in and got the job done.
Dodgers
They threatened to score as well, with a couple of baserunners, but couldn't get anyone home.
2 inning  Cubs 1-0
Another walk, but nobody  scored. 45 pitches after two.
Dodgers
After a very low strike three call, Adrian Gonzalez slowly walked closely behind the HP umpire, jawing and grumbling about the strike zone. That was the only interesting thing from the Dodgers' ups.
3rd inning Cubs 1-0
Maeda masterful. An easy two strike out inning.
Dodgers
Justin Turner got a two out, seeing eye base hit.
With Corey Seager up, he stole second. But the veteran Lester struck out the rookie on a cutter in the dirt.
4th inning  Cubs 1-0
Maeda gave up a lead off double that just missed going over the short wall in the left field corner.
He then hit Jason Heyward in the wallet. Two on, nobody out.
Maeda struck out Russell for the first out. F8 for the second out. And with that, Maeda was done.
Josh Fields in. F7, job done.
Dodgers
After a weak fly out by Carlos Ruiz, Howie Kendrick shot a screamer down the third base line for a double.
Up stepped Adrian Gonzalez. Then Kendrick ran! The call on the field was out, but the Dodgers immediately went to replay. SAFE!
Gonzalez hit a little nubber that Cubs first baseman Anthony Rizzo took and then dropped. Kendrick came home to tie the game. 1-1
5th inning  Tie 1-1
Grant Dayton in. Two Ks and a streaking line drive headed for the gap in right-center field, that Yasiel Puig ran down and caught.
6th inning  Tie 1-1
Joe Blanton in.
Gives up immediate base hit. Then gives up stolen base.
K on a bad pitch for the first out.
Then he gave up a dead CF blast for a 2-run HR. 3-1
Dodgers
Corey Seager shot a one out single past Rizzo. They left him there.
7th inning  Cubs 3-1
Luis Avilan in. Job done.
8th inning  Cubs 3-1
Pedro Baez in.
A quick error and hit became two on and no out.
Then the inning just disintegrated into death by a thousand cuts. Little hits and bigger mistakes led to a 5-1 Cubs lead.
After 2 hours and 2 out, Roberts had finally seen enough and pulled Baez.
Ross Stripling in. He gave up a bases loaded double to clear the bases. 8-1.
Dodgers
Andrew Toles (finally) got in the game and blasted a lead off double.
JT took a ball in the upper left arm to give the boys two on and nobody out.
A double play put Toles on third, and Ruiz drove him in. 8-2  Yay?
9th inning  Cubs 8-2
A walk and a single put Gonzalez and Puig on third and first, respectively.
Ol' Smoke and Mirrors came in to hit a gapper to score Gonzo. 8-3
Toles sac flied Joc Pederson in. 8-4
That was it.
Dodgers lose 8-3
Cubs manager Joe Madden kept his .333 hitter (Baez) in the lineup and he only got hotter.
Dodgers manager Dave Roberts took his .333 hitter, Andrew Toles, out of the lineup. And he inserted an anemic .190 hitter at leadoff, and put a guy batting 0 for 14 against Lester in the leadoff spot.
Which moves would you think paid off?
Welcome back home: Vin Scully returned to Dodger Stadium for the first time since his retirement. Eric Karros and Steve Garvey introduced him, and then Scully rallied the crowd with his classic "It's time for Dodgers baseball!" mantra.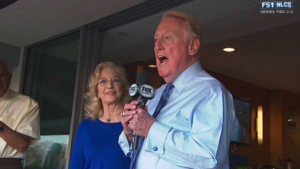 It's going to take more than butter and eggs: Adrian Gonzalez was once again instrumental in the Dodgers' offense. He brought home Kendrick with their first run of the night.
A record breaking night: Justin Turner has now reached base in 15 consecutive postseason games, an LA Dodgers record. Carl Furillo's previous record stood for 60 years.
A back breaking night: Including a grand slam in game one, Joe Blanton has given up three home runs in the NLCS.
Kenta Maeda went 3 2/3 with 3 hits, 1 run, 2 walks, 6 Ks.
Dodgers with RISP: 2 for 10  As Scott would say: PATHETIC! 
Cubs lead the best of seven series 3 games to 2.  Back to Chicago! See you on Saturday night.