This goes without saying facing the Diamondbacks was the worst case scenario. The snakes were forced to use Robbie Ray in the wild card win against the Rockies. So Taijuan Walker was on the mound for the snakes. Clayton Kershaw was on the mound trying to exercise his playoff demons,  get a win at home for the first time ever in postseason, in a must win for the Dodgers.
It was a must win because Dodger killer Robbie Ray will start game 2 for the snakes. The Dodgers got on the board quick after the long layoff.  Chris Taylor started of the game with a single. Corey Seager then followed with a walk. The redturn then came and hit a three run shot as the stadium erupted and the Dodgers took a 3-0 lead.  Immediately following that was a Cody Bellinger single.
Yasiel Puig the doubled him in and the Dodgers led 4-0. In the top of the 3rd, A.J. Pollack hit a solo shot to get the snakes on the board.  In the bottom of the 4rth the Dodgers got cooking off Zach Godley. With two runners on Corey Seager singled in a run. Justin Turner then singled in a run. Yasiel Puig collected an RBI on an infield out. The Dodgers had a 7-1 lead. Kershaw with help of a few double plays was cruising along.  
In the top of the sixth JD Martinez hit a solo shot off Kershaw. The 7th drum was beating for Kersh. Right on cue in top of the 7th Ketel Marte and Jeff Mathis hit back to back home runs off Kershaw to make the score 7-4. Kershaw gave up 4 solo shots and was taken out after a single. Brandon Morrow came in to put out the fire. Dodger stadium sounded nervous.
In the bottom of the 8th Austin Barnes singled. Corey Seager then tripled him in. Justin Turner then singled in Seager and collected his 5th RBI of the night. So you know who the Snakes wont pitch to tomorrow. The Dodgers took the lead 9-4. The Diamondbacks did score a run in the 9th off Kenley Jansen. The Dodgers still won the game 9-5.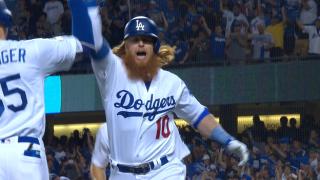 So the Dodgers won so all is well tonight. The snakes had beaten the Dodgers six straight times. They will face Robbie Ray tomorrow. The snakes did hit four solo shots off Kershaw and scored a run off Jansen in the 9th. The team worries me.  Granderson and Grandal need to go on the bench.