A pitching duel broke out again in Motown. The Dodgers completed inter-league play as Justin Verlander took on Kenta Maeda. Chris Taylor and Cody Bellinger were missing from the line-up. Both Pitchers took no-hitters in to the sixth inning as the Dodgers went for the sweep. New Dodger Curtis Granderson hit a solo shot in the top of the sixth off old buddy Velander to break up the no hit bid.
In the bottom of the sixth inning the wheels fell off for Kenta Maeda. John Hicks of the Tigers started it off with a single. Andrew Romine then hit a double. Kenta Maeda in the sixth inning was entering the twilight zone. Dixon Machado then doubled in two runs. Justin Upton the self proclaimed Dodger Killer then hit a two run shot and the Tigers took a 4-1 lead.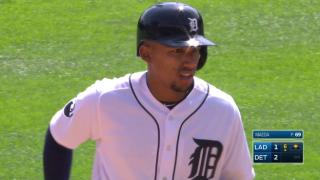 Austin Barnes in the 8th inning hit a two out single for the only other hit off Verlander. Miguel Cabrera who had been cold the whole series doubled in two runs off Tony Cingrani. The score was now 6-1 Tigers which was the final score of the game.
The Dodgers will try to regroup with a four game set against the Pirates in PNC Park as Alex Wood will take the mound for the first game of that series. I still feel the Dodgers need a shut-down left-hander out of the bullpen to cover all their bases. The Dodgers still have till Sept. 1 to get that job done either internal or external.