When I received a ticket for last night's Dodgers – Marlins ballgame, I was excited because I was going to witness Walker Buehler's 2018 Dodger Stadium debut. I thought the night would be special, but I had no idea how very special it would be.
Yes, it was a thrill to watch Buehler pitch – and from behind home plate, no less – but the real excitement came from last night's star performer, Enrique Hernandez. I'm well aware of the Kiké naysayers, there are plenty that frequent LADR.  Even my partner Scott is a non-believer in the Banana Kid.
When the Dodgers broke Spring Training, I wrote about Kiké's desire to be an everyday player, and my desire to see that happen. Since then, Hernandez has had plenty of playing time. He's had his share of ups and downs (as most of the Dodgers have so far), but last night was a reminder that now and then, Kiké will catch lightning in a bottle, and the more he's on the field, the more the Dodgers will benefit.
"I try to figure out ways to get (Hernandez) in there every single night…Tonight was Kiké's night. Defensively, hitting a homer, getting the bunt down was huge. Really big night for him." – Dodgers manager, Dave Roberts 
In addition to his All-Star defensive play, Kiké also let his bat do the talking, in ways large and small. With the Dodgers being no hit through four innings, Kiké came to the plate and woke up his team, and the Dodger Stadium faithful, with a home run into the center field pavilion. To be honest, from my vantage point behind the plate, the ball didn't look like it had enough juice to go out, but it just kept sailing…and sailing… into the crowd.
That single run held up until  the Dodgers' bullpen stumbled and errored its way into allowing the Marlins to tie the game in the top of the eighth inning. It was starting to look like extra innings, and my friend Naomi and I started running through which players were still on the bench and available.
Thankfully, the Dodgers didn't want anything to do with extras, and Kiké was once again a vital part of the equation. Chris Taylor led off with a double in the Dodgers' half of the eighth, and up stepped Hernandez. He laid down a beautiful, slow rolling bunt toward third to advance Taylor into scoring position. Here's my photo of Kiké laying down his bunt.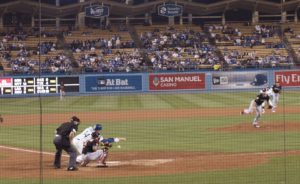 Kiké was safe at first, and the Dodgers were in business, with men at the corners and no out.  After Corey Seager flied out, Cody Bellinger dumped a sac fly into right field, and Taylor brought the winning run home. Here's my photo of Cody's sac fly. Note the pitcher watching the flight of the ball into RF.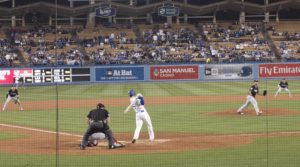 Thankfully, Buehler didn't take the day off, and the Dodgers picked up their seventh win in their last eight games because the skipper didn't give Hernandez the day off either.